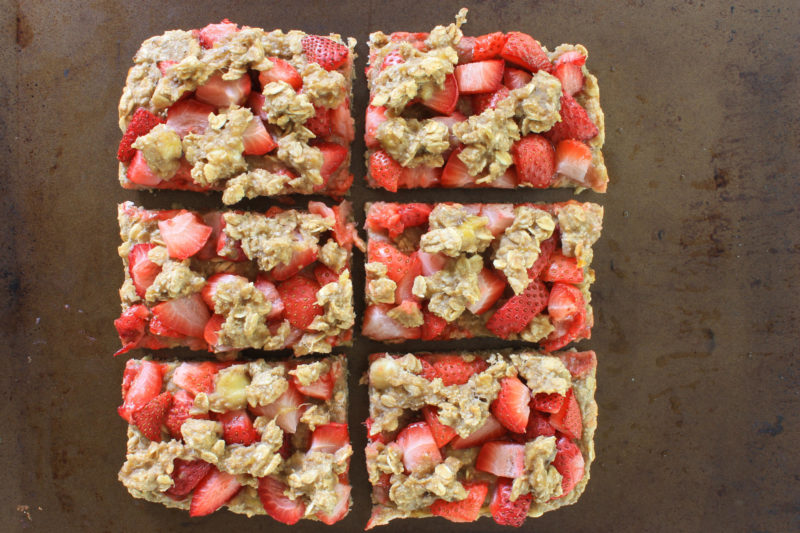 The busier life has gotten, the more I've come to value meals that are 1) quick to prepare, 2) can be made in advance, or 3) can be taken on the go. These tasty Strawberry-Banana Breakfast Bars fit the bill! Think of them as handheld oatmeal – soft and chewy with juicy baked fruit. They taste the best warm from the oven, but they're also delicious at room temperature and can be reheated in the oven or microwave if you prefer.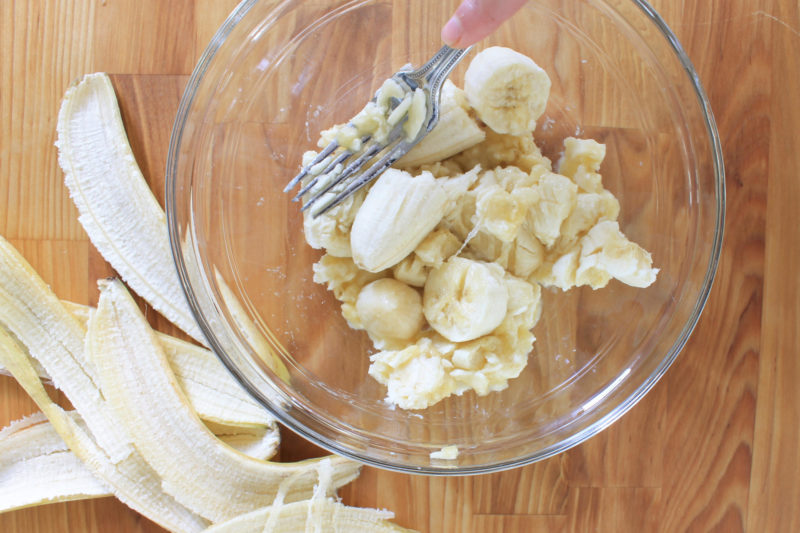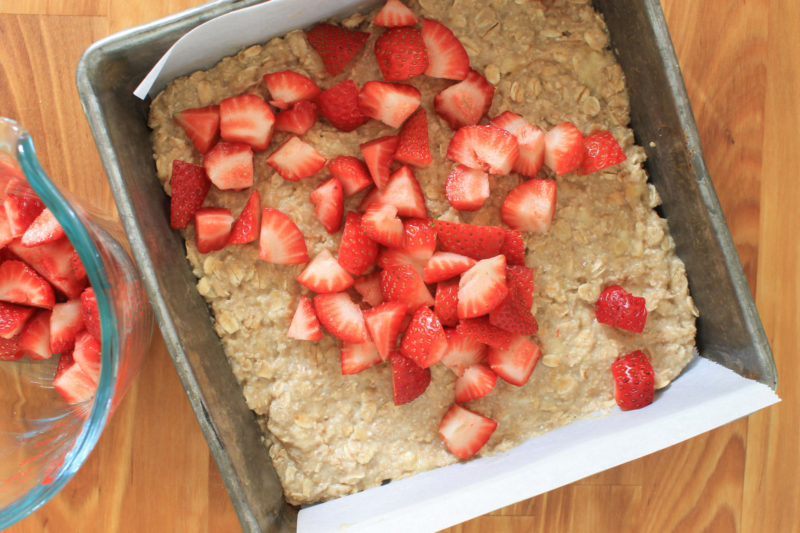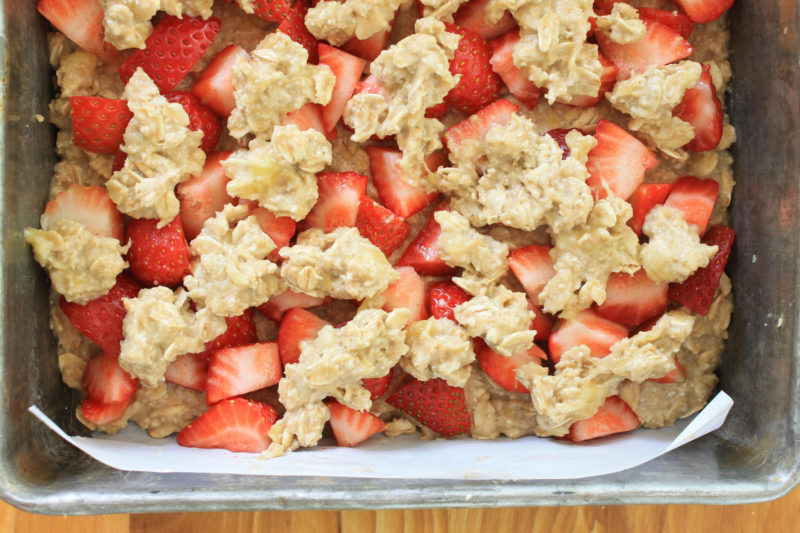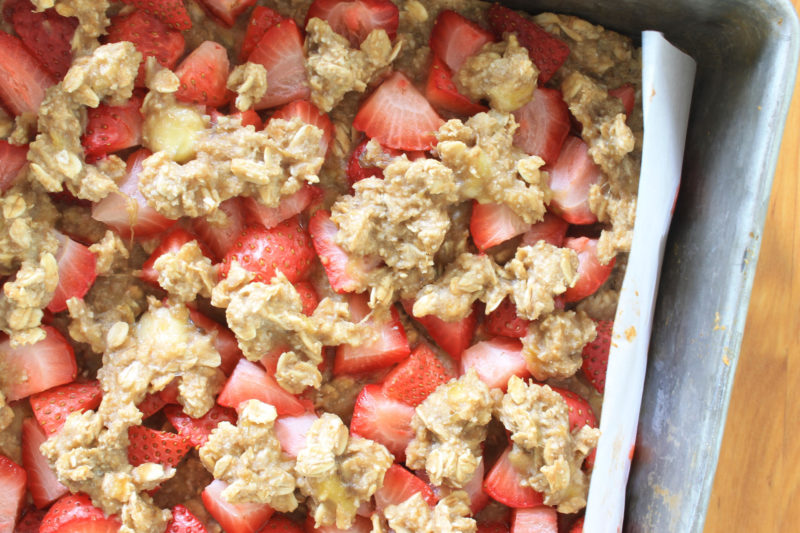 Strawberry-Banana Breakfast Bars
2017-09-11 05:43:56
Ingredients
2 ripe bananas
1 cup rolled oats *see notes
1 cup oat flour
1/4 teaspoon salt
2 Tablespoons melted coconut oil
2 Tablespoons maple syrup
1 1/2 cups chopped fresh strawberries
Instructions
Preheat oven to 350F. Line an 8" square pan with parchment paper and set aside.
In a medium bowl, mash the bananas with a fork, then mix in the oats and flour. Add the salt, coconut oil, and maple syrup and mix again, combining thoroughly.
Set aside 1/2 cup of the banana-oat mixture. Press the remaining mixture into the bottom of the prepared pan. Scatter the strawberries over the "crust," then top with big crumbles of the remaining oat mixture.
Bake for 25-30 minutes, until golden brown. Allow the bars to cool, then cut into 6 pieces. These can be kept at room temperature in an airtight container for 3-4 days, or for about a week in the refrigerator.
Notes
SR clients: 1 bar = Level 1 breakfast
*Make your own oat flour by running 1 1/4 cups rolled oats in your food processor or dry blender for 1-2 minutes!
Adapted from Kitchn
Strong Roots Nutrition http://www.strongrootsnutrition.com/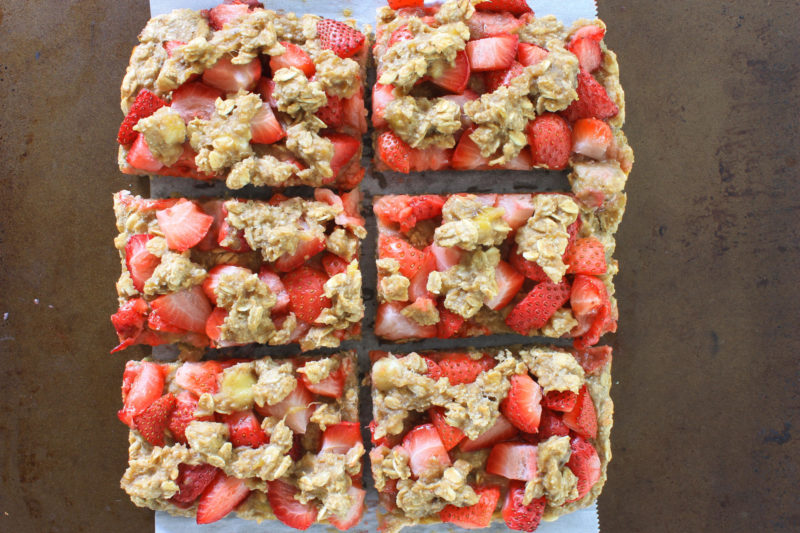 What are your favorite portable meals? Share your tips below!
If you try this recipe at home, please share on Instagram using #strongrootsnutrition so I can check out your creations!
//Taylor