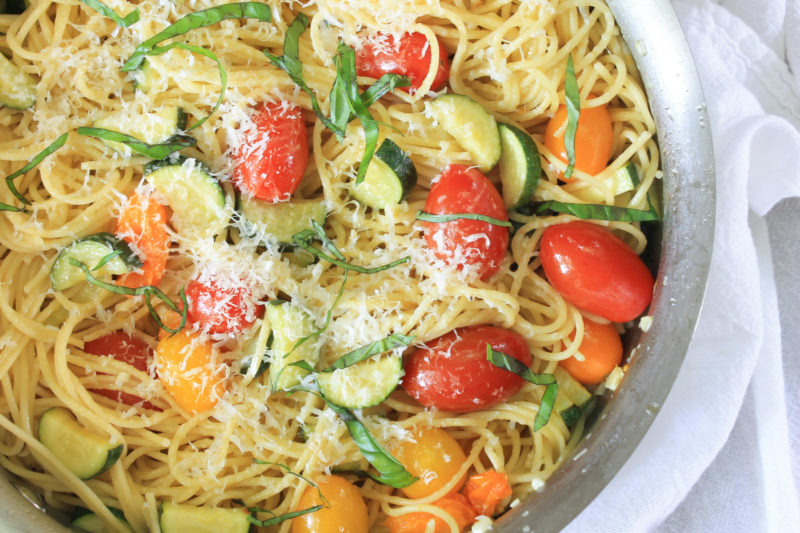 My favorite recipes to share aren't the ones that look extravagant or take hours of prep to make. They're the practical ones: the ones that I myself make on a regular basis, the ones that can be whipped up on a weeknight, the ones that take under an hour to prepare. Sometimes it's fun to spend hours cooking something new and elaborate, but most of the time, I want to cook something that's tasty, fast, and gets the job done.
Like this pasta.
I started making this pasta when I had my first real garden and my Super Sweet 100 tomato was going crazy, vining all over the neighborhood. Picking cherry tomatoes by the bowlful, I needed a good go-to weeknight tomato pasta recipe, and this one just worked. It's simple – exactly what you want in a weeknight dish – but filled with flavor from garlic, white wine, parmesan, and basil.
I'm all about the whole grains, but I like this dish best with standard, enriched pasta. I've used both enriched and whole wheat noodles for this meal, and enriched noodles seem to soak up the flavors best. Feel free to try it both ways and see what you prefer.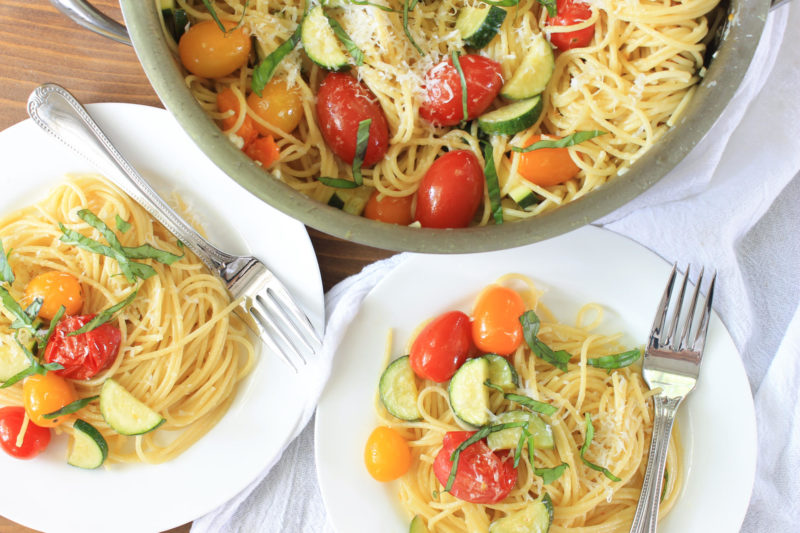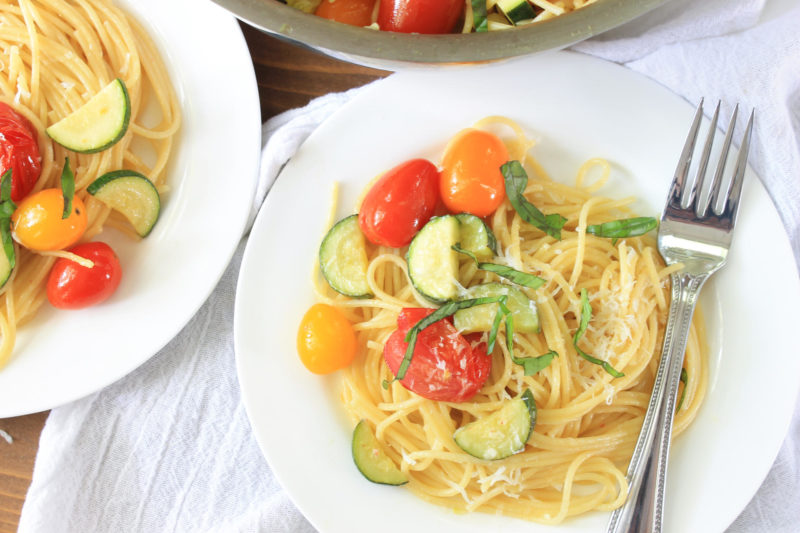 Simple Burst Tomato Pasta
2017-06-25 20:13:21
Serves 6
Ingredients
1 pound box of thin spaghetti
½ cup olive oil
1 pint cherry tomatoes
1 medium zucchini, sliced into half-moons
5 cloves garlic, minced
½ teaspoon salt
½ cup dry white wine
¾ cup finely grated parmesan, divided
¼ cup basil, julienned
Instructions
Bring a large pot of salted water to a boil. Drop in the pasta and boil until very al dente. Drain, reserving 1 cup of pasta water, and set aside.
Heat the olive oil in a wide, deep skillet. Add the tomatoes, zucchini, garlic, and salt and sauté for about 1 minute. Add the wine to the skillet and reduce for 1 minute. The tomatoes will soften and a few will burst open, but most of them should retain their shape.
Add the cooked pasta and a ladle of the reserved pasta water and toss to combine. Remove the pan from the heat and toss in 1/2 cup of the parmesan. Serve immediately, garnishing with the remaining parmesan and the basil.
Notes
SR Clients: Level 2-3 (75-100%) entrée = 1/6 of recipe
Strong Roots Nutrition http://www.strongrootsnutrition.com/
If you make this recipe at home, share with me on Instagram and use #strongrootsnutrition so I can see!
//Taylor