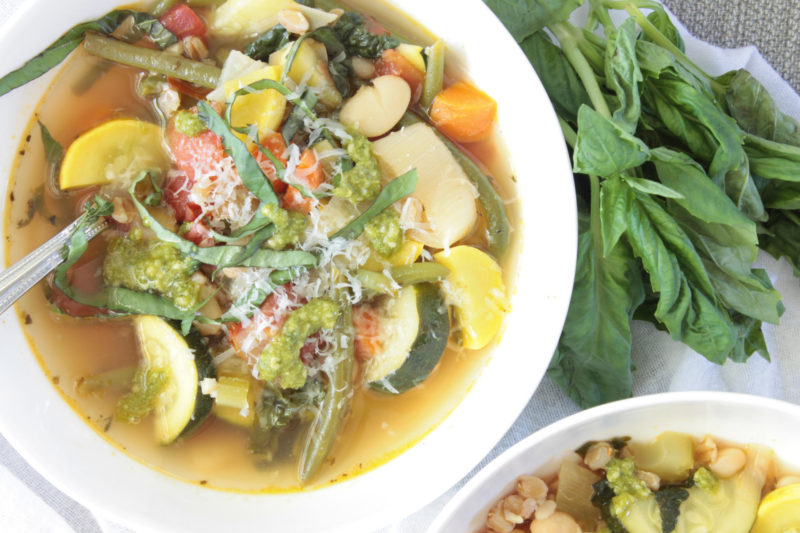 A good pot of soup is such a good thing. I love to make a big batch at the start of the week and have enough leftovers for days of packable lunches. Pair with a loaded-up salad and a big slice of crusty bread and done! This soup does well with this make-ahead method: the vegetables hold up to reheating, and a fresh drizzle of pesto and grating of Parmesan easily brings it back to life.
Prepping meals in advance can be extremely helpful when you are trying to keep your eating "on track" – whatever that means for you. Cooking in bulk not only allows you to spend less time in the kitchen during your busy week, but it also takes the guesswork out of deciding what to have for dinner. A few of my favorite make-ahead dishes are Tuscan Bean Soup, Southwest Quinoa Salad, Black-Eyed Pea Falafel, and Herb-Dijon Egg Salad Tartines.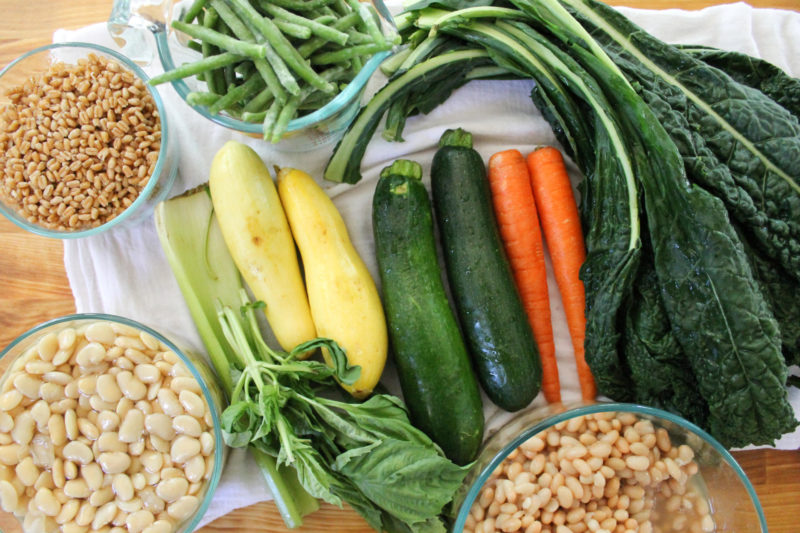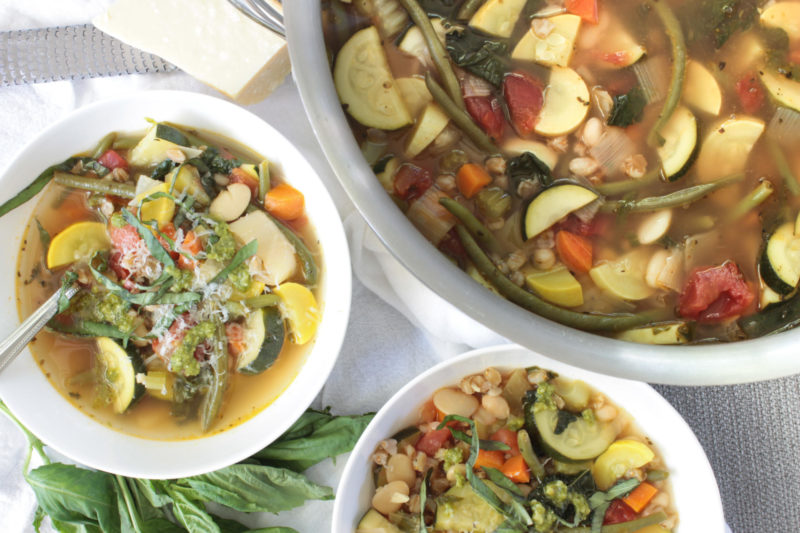 Summer Minestrone Soup with Farro
2017-05-08 20:06:49
Serves about 6 as an entrée, 12 as a side
Ingredients
1 cup farro, rinsed
3 Tablespoons olive oil
1 leek, halved and sliced into half-moons
2 carrots, diced
1 celery stalk, diced
2 garlic cloves, minced
14-ounce can diced tomatoes
10 cups vegetable stock
4 teaspoons salt
½ teaspoon dried oregano
½ teaspoon dried basil
2 zucchini
2 yellow squash
2 cups cut green beans, fresh or frozen
1 cup lima beans
1 cup cannellini beans
2 cups chopped lacinato kale
½ cup chopped fresh basil
½ cup pesto
Parmesan
Instructions
Bring 4 cups of water to a boil in a small saucepan. Rinse the farro in a mesh strainer and add to the boiling water. Return the water to a boil, then reduce to a simmer for 20 minutes to cook the farro to al dente. Drain and set aside.
Heat the olive oil in a large stockpot over medium-high heat. Saute the leek, carrot, celery, and garlic for about 5 minutes until softened.
Add the diced tomatoes, vegetable stock, cooked farro, salt, oregano, and dried basil and bring to a low simmer for 10 minutes.
Add the zucchini, squash, green beans, lima beans, cannellini beans, and kale and simmer for another 10 minutes.
Garnish each serving with fresh basil, a drizzle of pesto, and a healthy grating of parmesan.
Notes
SR Clients: 3 cups soup + 1 tablespoon pesto + ½ oz. parmesan = Level 2-3 (75-100%) entrée. 1.5 cups soup + ½ tablespoon pesto + ¼ oz. parmesan = Level 3 (100%) appetizer.
Strong Roots Nutrition http://www.strongrootsnutrition.com/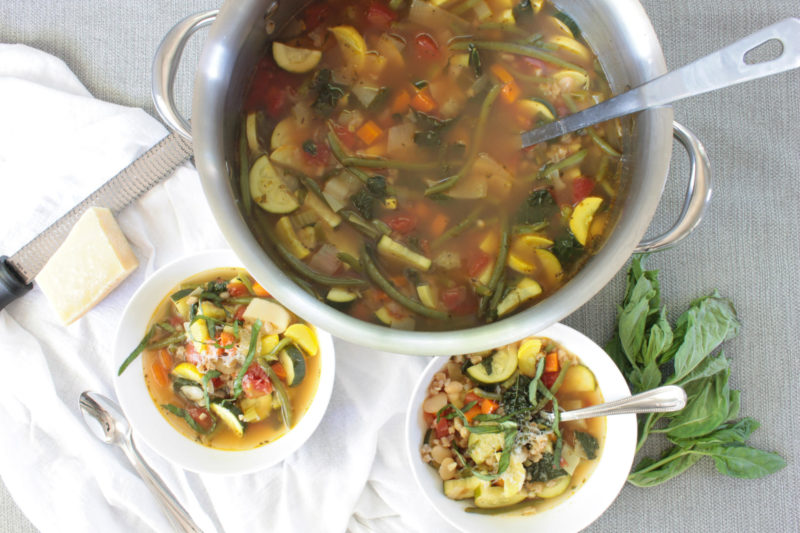 If you make this recipe at home, I want to see! Share with me on Instagram using #strongrootsnutrition!
//Taylor