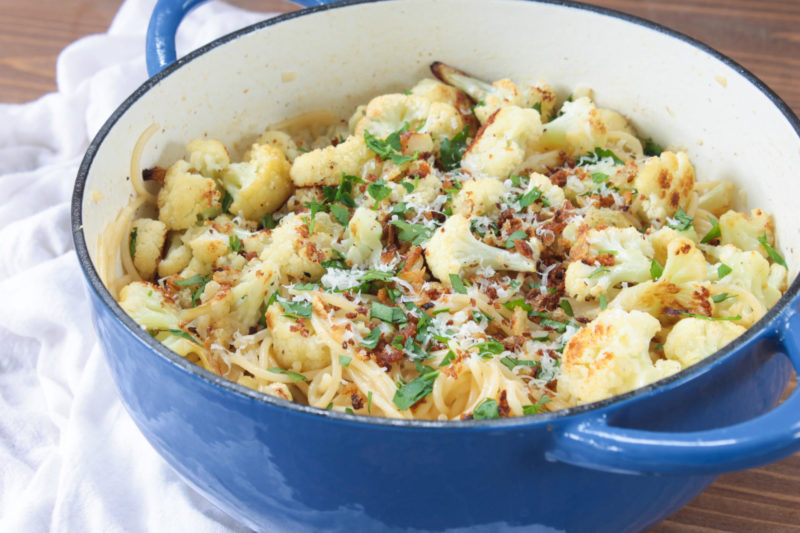 During the week, we're all about quick meals that require little prep but taste delicious, and this is certainly a dish that fits the bill.
If you've ever wondered how restaurants are able to achieve that saucy, glossy, sauce-clinging-to-noodles effect that makes the dish so good, this is one way to to do it. When the pasta is several minutes away from al dente, it gets moved to the sauce with a ladle full of pasta water. As you finish cooking the noodles in the sauce, you toss, toss, toss, adding more starchy pasta water as needed to provide enough of a bath for the noodles to cook in. Finely shredded cheese is slowly added throughout the process so that it melts evenly and completely. The starch in the pasta water helps the sauce to thicken and cling to the noodles, and you're left with incredibly tasty results.
If you wish, amp up the protein in this dish with some chicken seasoned with salt and pepper and a squeeze of lemon. Some roasted chickpeas would also be a tasty addition. You could simplify things my omitting the breadcrumbs, but if you have the time to make them, they contribute a fantastic crunch to the meal. Add what you want, omit what you don't, and make it your own!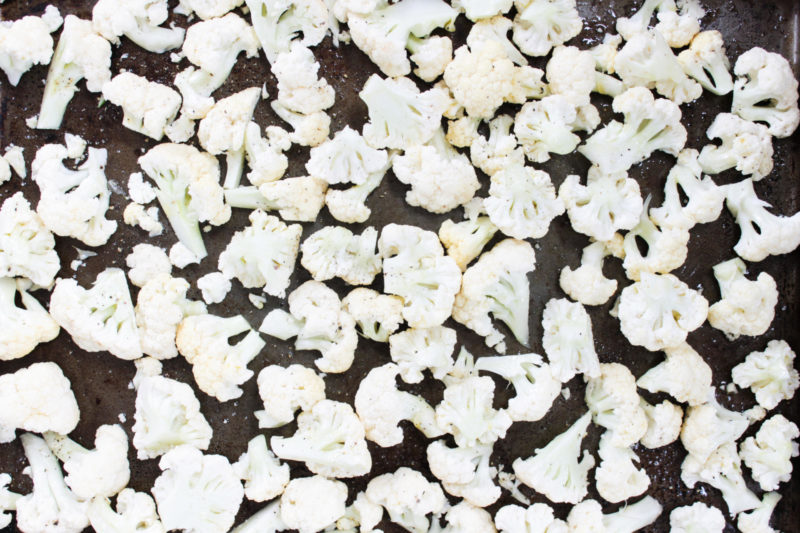 Don't forget about cauliflower! This member of the brassica, or cruciferous, family of vegetables which also includes cabbage, broccoli, brussels sprouts, and kale packs beneficial nutrients. Cauliflower is a great source of vitamin C, vitamin K, folate, and fiber. Like other cruciferous vegetables, it is also a source of glucosinolates, which help support our bodies' detoxification, inflammatory, immune, thyroid, and cardiovascular systems. Be careful not to overcook it as prolonged cooking methods can destroy some beneficial nutrients.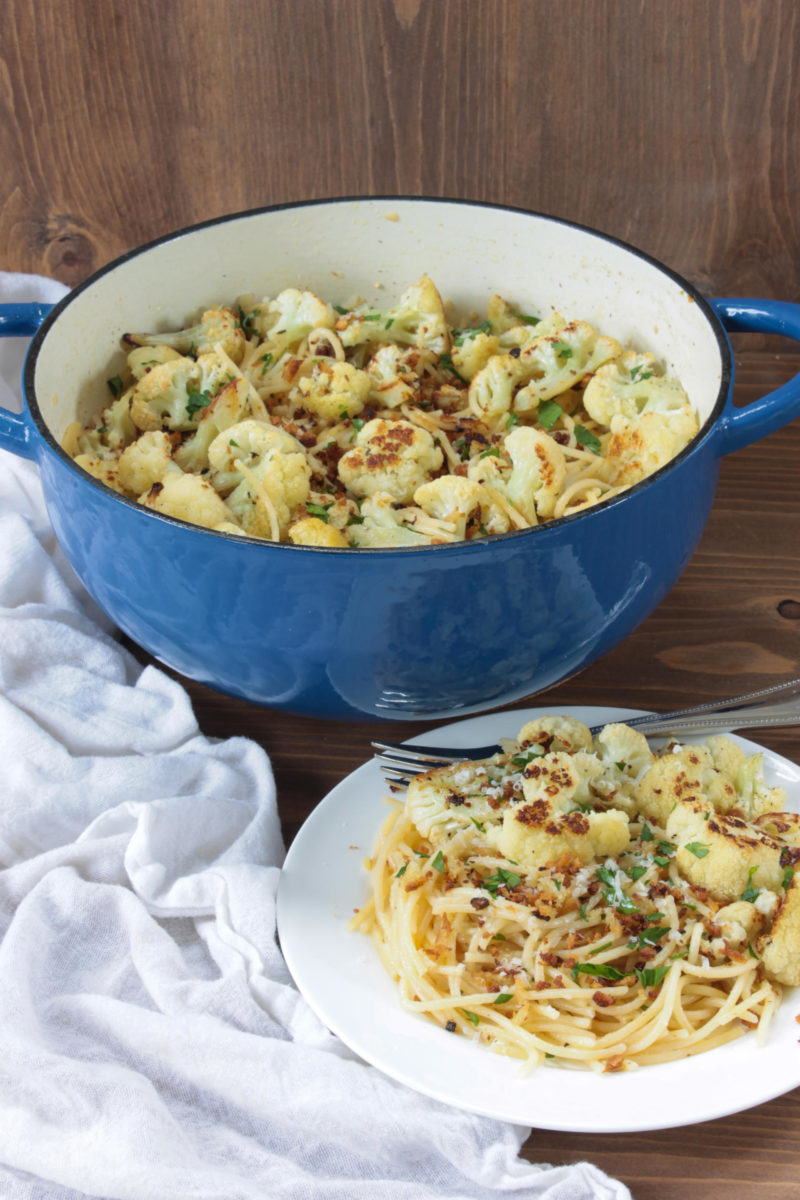 Glossy Roasted Cauliflower Pasta
2017-03-29 17:42:25
Serves 6
Ingredients
1 head cauliflower, cut into florets
9 Tablespoons olive oil, divided
2 slices crusty bread
6 minced garlic cloves, divided
1 lb box spaghetti or linguine
4 anchovy filets
½ cup finely grated Parmesan cheese
¼ cup parsley
Salt and pepper
Instructions
Preheat oven to 400 degrees. Scatter cauliflower florets on a sheet pan and drizzle with 3 Tablespoons olive oil and a big pinch of salt and pepper. Roast for 15-20 minutes until lightly browned.
In a food processor, combine the bread slices, 2 cloves minced garlic, and a pinch of salt. Whirl until the bread resembles breadcrumbs.
Heat 2 Tablespoons olive oil in a small skillet. Pour in the fresh breadcrumbs and toast until golden brown. Set aside.
Bring a large pot of water to a boil on the stove. Generously season the water with salt – it should taste like the sea. Drop in your spaghetti noodles and stir to ensure they're submerged.
Meanwhile, in a large Dutch oven, heat remaining 4 Tablespoons olive oil over medium-high heat. Drop in the anchovy filets and stir; you'll see them dissolve in the hot oil after a couple of minutes. Add the remaining 4 cloves of minced garlic and sauté for 30 seconds.
When the spaghetti is 3-4 minutes shy of al dente, use tongs to transfer the pasta from the boiling water into the Dutch oven. Add a big ladle of pasta water (the pasta should be swimming in liquid) and ½ teaspoon salt. Use the tongs to toss, toss, toss the pasta continuously, adding more pasta water as needed to keep the pasta cooking in some liquid. Gradually add in the grated Parmesan cheese as you toss to melt it slowly and evenly. When your spaghetti is al dente, remove from heat. Add another small ladle of pasta water if needed to keep the noodles a little saucy and glossy.
Add your roasted cauliflower to the Dutch oven on top of the pasta and toss to combine. Garnish with freshly ground black pepper, toasted breadcrumbs, and chopped parsley.
Notes
SR Clients: 1/6 of recipe = Level 2-3 (75-100%) entree
Adapted from Bon Appetit
Strong Roots Nutrition http://www.strongrootsnutrition.com/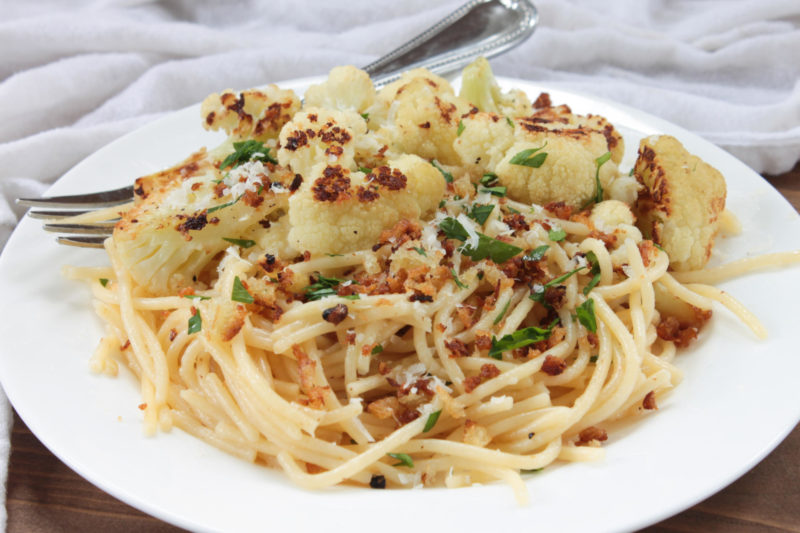 If you try making this recipe at home, be sure to share on Instagram using #strongrootsnutrition so I can see!
//Taylor