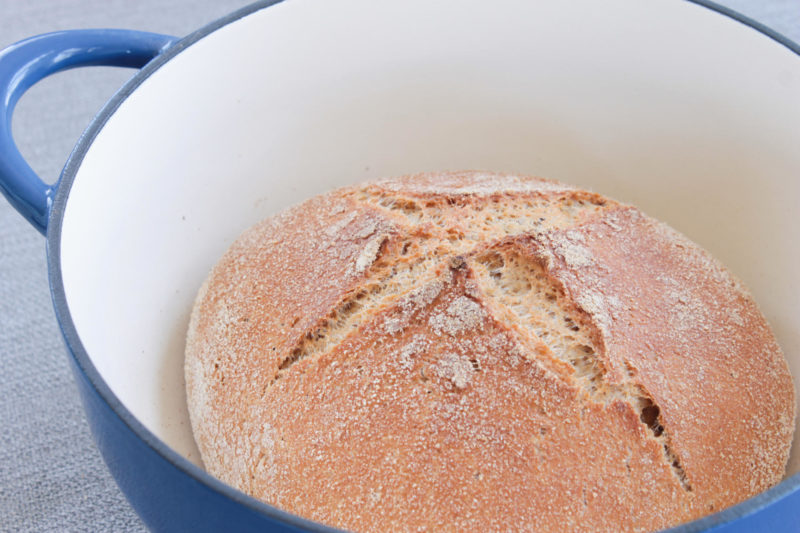 Homemade bread is a special thing. It's a labor of love: a multi-step process that requires some hands-on work, but the finished product is delicious and loved by all. I've been baking bread since college, but I'm a little out of practice these days, and the great thing about bread is that it doesn't care. It doesn't matter if your crumb isn't quite right, if your loaf turned out a little flat, or if you didn't get the big, airy holes you were hoping for. It always tastes good.
For this reason, bread baking is something that becomes a hobby for some. You can play around with different moisture levels, types of flour, leavening times, kneading techniques, and even if it didn't turn out exactly like what you were hoping for, you still have freshly baked bread! If this is something that interests you, a couple of great books to get you started are Artisan Bread in Five Minutes a Day (for simple, foolproof methods) and The Bread Baker's Apprentice (for more complex techniques; a great resource).
This recipe isn't complicated. There's no kneading required, and you can plop your dough in a dutch oven instead of messing with shaping and forming a loaf. Best of all, you get freshly baked bread at the end.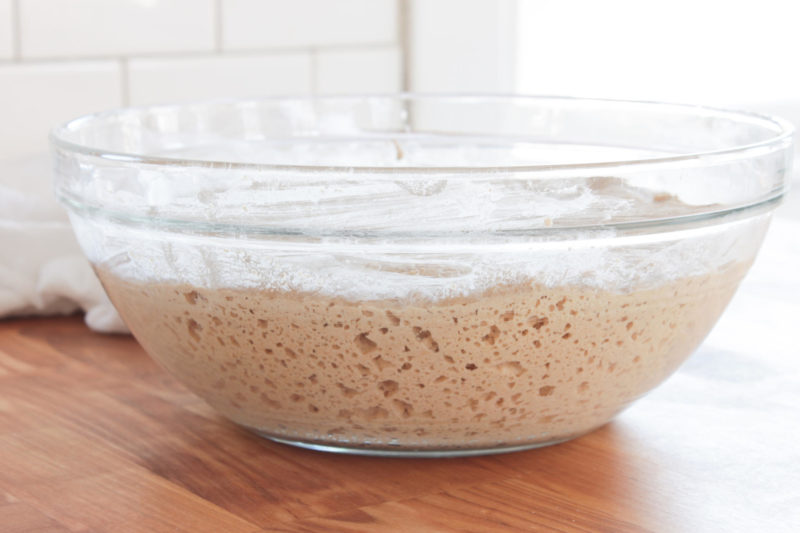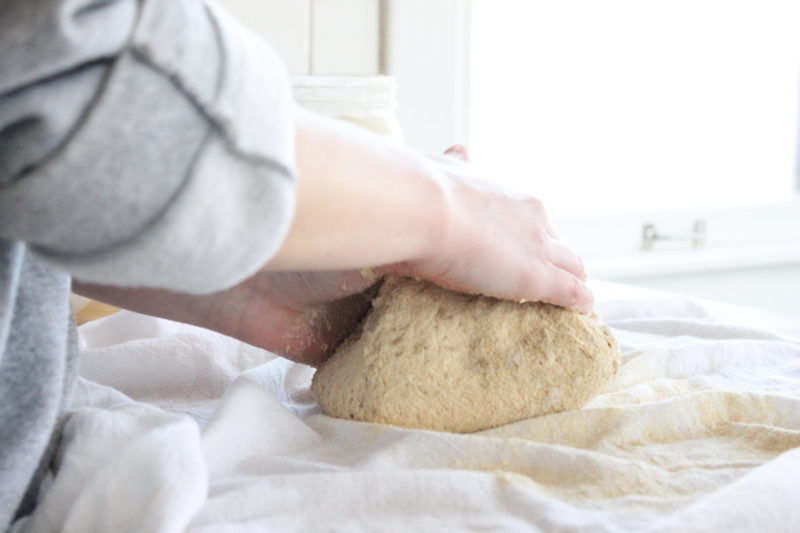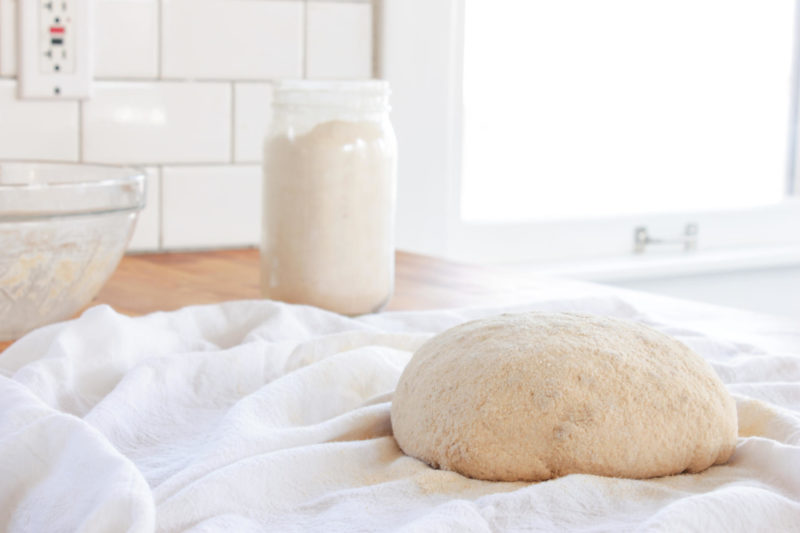 Dutch Oven Bread
2017-03-01 15:50:07
Makes 1 loaf
Ingredients
1/2 teaspoon active dry yeast
2 1/4 cups lukewarm water
4 1/2 cups whole wheat pastry flour (makes for a lighter whole wheat loaf)
2 teaspoons salt
1 1/2 tablespoons vital wheat gluten
Instructions
Mix all ingredients together in a large bowl. The dough should be pretty sticky and shaggy. It'll seem too wet, but whole wheat flour absorbs a lot of water, so trust me. Set the bowl inside a grocery sack and tie shut to seal out some air. Let the dough sit for a minimum of 8 hours, preferably 12-18 hours.
After the dough sits, form dough into a ball and place in a floured bowl, covered with a towel, for 90 minutes.
30 minutes prior to baking, preheat oven to 475 with a 4- or 6-quart enameled dutch oven in the oven.
When the dough is finished resting and the pan is thoroughly preheated, remove the hot dutch oven from the oven. Sprinkle some cornmeal into the bottom of the pot and flip dough into the pot. Slash the top of the dough if desired, then replace the lid and return the pot to the oven
Bake the bread for 30 minutes with the lid on, then 20-30 minutes with the lid off until the top of the bread is golden brown.
Let cool for at least 1 hour before cutting. Serve with soft butter and honey.
Strong Roots Nutrition http://www.strongrootsnutrition.com/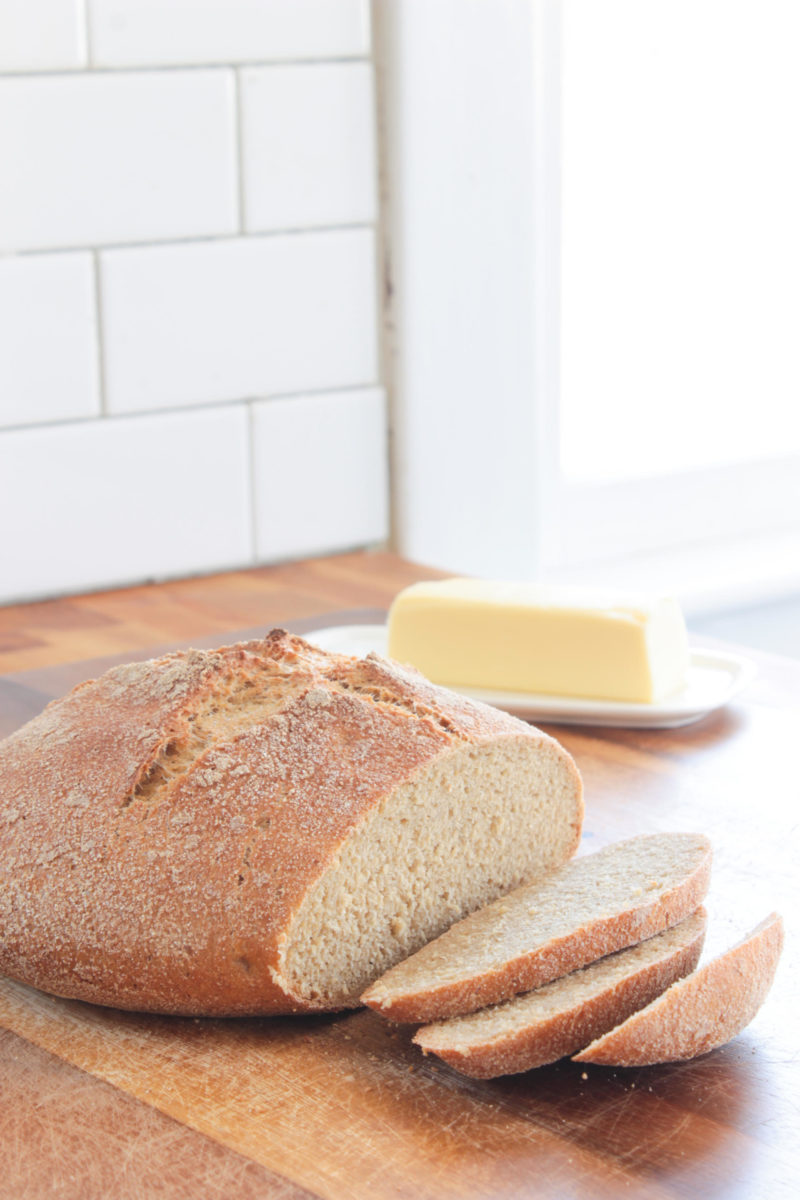 I'd LOVE to see your homemade breads! If you make this recipe at home, share with me on Instagram using #strongrootsnutrition so I can check it out!
//Taylor