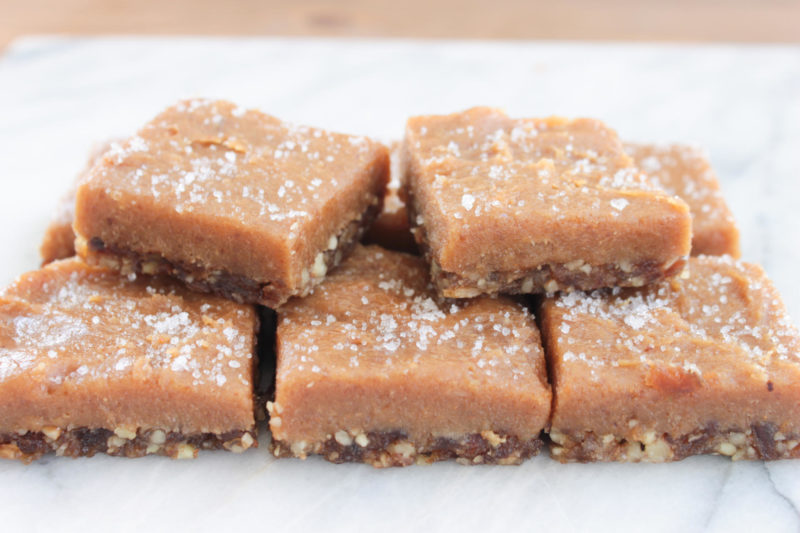 Snow in March? No. Go away.
Dates that have been transformed into delicious salted caramel? Sign me up.
This recipe is one I've been dreaming up for a little while, and it's such a winner. A crunchy nut base is topped with dreamy, creamy "caramel," and a sprinkle of salt on top takes it over the edge. It's not exactly caramel, of course, but it's certainly simpler to make. True caramel made from sugar and heavy cream isn't terribly difficult to craft at home, but it does involve violently boiling the ingredients on the stove and perhaps using a candy thermometer to achieve the desired consistency. This tasty date version simply has you tossing a few ingredients in a food processor and blending until it looks like this: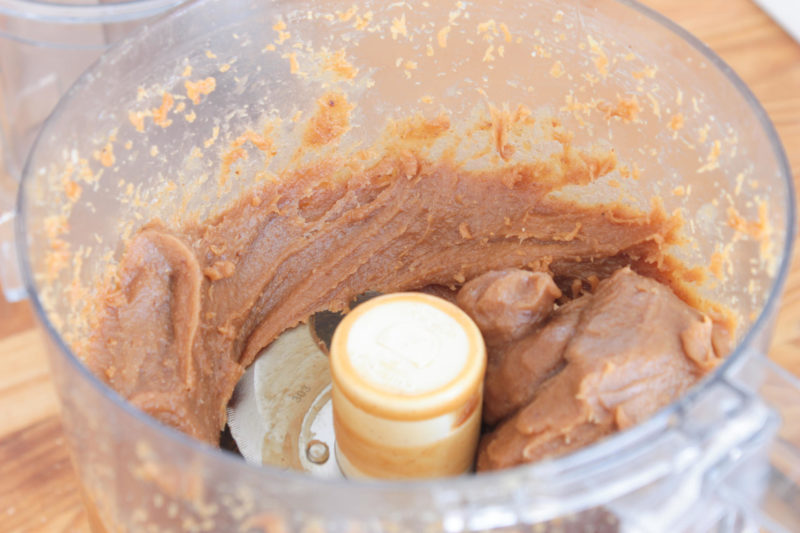 Mmmm. Just look at that creamy deliciousness. Also, note my A+ bar-cutting skills below.
I have a request from you: when you choose to enjoy this dessert (and any other dessert), please make a conscious effort to not let self-judgement enter into the equation. It's not "okay" to enjoy this one because it's made from dates instead of cream and sugar. It's not "okay" to enjoy it because you'll work out extra hard at the gym tomorrow. It's not "okay" to enjoy it because now you won't allow yourself to have another dessert for x days. It's okay to enjoy it because you're a human worthy of enjoying good things. Good things made from date caramel and good things made from cream-and-sugar caramel. People struggle more to maintain a healthy weight when they constantly battle with and deprive themselves than when they consciously choose to eat something delicious, enjoy it, and move on. So whatever you choose, stop to truly savor it, enjoy it, and mindfully eat the amount that's appropriate for you without guilt and regret.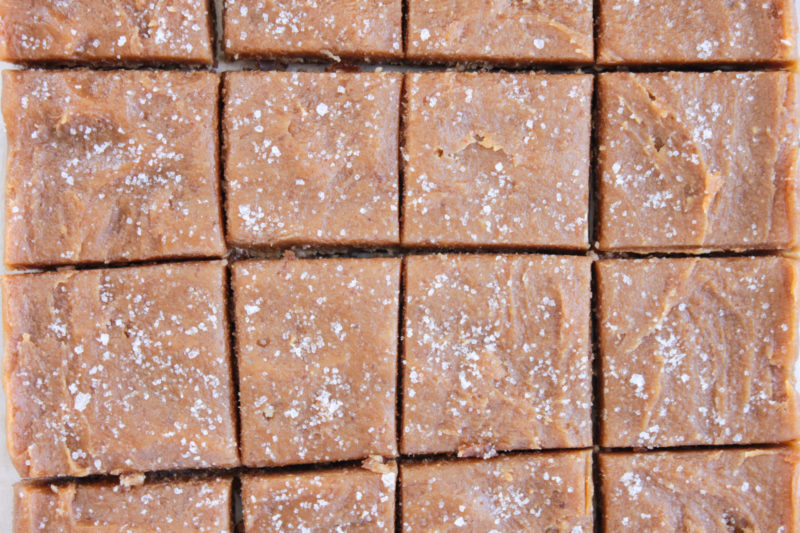 Caramel Date Bars
2017-03-01 15:32:48
Ingredients
1 ¼ cups pecans
2 ½ cup pitted dates, divided (I use the deglet noor type)
1 teaspoon salt, divided
½ cup peanut butter
2 Tablespoons maple syrup
2 Tablespoons coconut oil, melted
1/8 teaspoon vanilla
1-3 Tablespoons water, as needed
½ teaspoon fleur de sel or other coarse salt
Instructions
Line an 8x8 pan with parchment paper and set aside.
Place 1 ½ cup dates in a bowl of water and set aside.
Combine 1 cup non-soaked dates, pecans, and ½ teaspoon salt in a food processor and run until the mixture is broken down and crumbled. It should stick together a bit when you squeeze it with your fingers. If it doesn't, add 1 tablespoon of water and pulse again.
Press the nut mixture evenly into the bottom of the prepared pan and set in the fridge while you make the caramel.
Drain the soaked dates. Combine soaked dates, peanut butter, maple syrup, coconut oil, ½ teaspoon salt, and 1 tablespoon water in the food processor and blend until smooth and thick. Spread the caramel evenly on top of the pressed nut mixture. Place in the fridge for 1 hour to firm up. Slice into 16 squares and enjoy!
Notes
SR Clients: 1 bar = Level 1 (50%) snack or Level 3 (100%) dessert.
Strong Roots Nutrition http://www.strongrootsnutrition.com/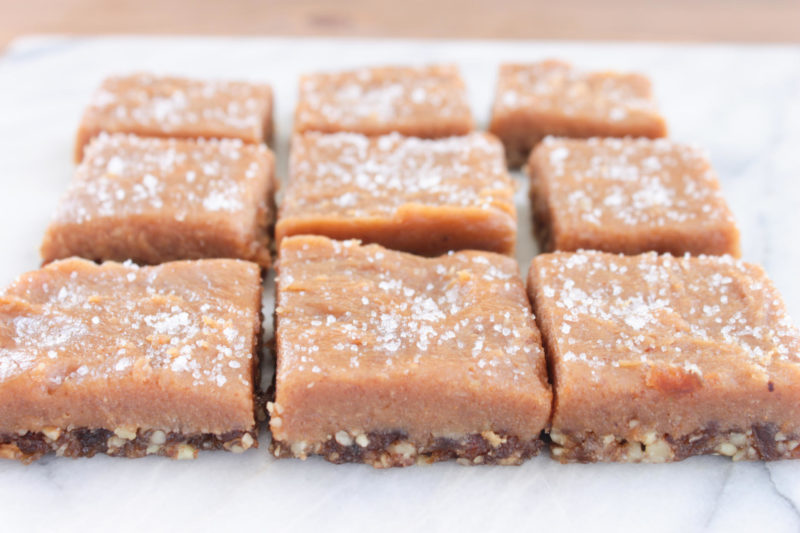 If you make this recipe or any other SR recipes at home, share with me on Instagram using the hashtag #strongrootsnutrition so I can check out your creations!
//Taylor