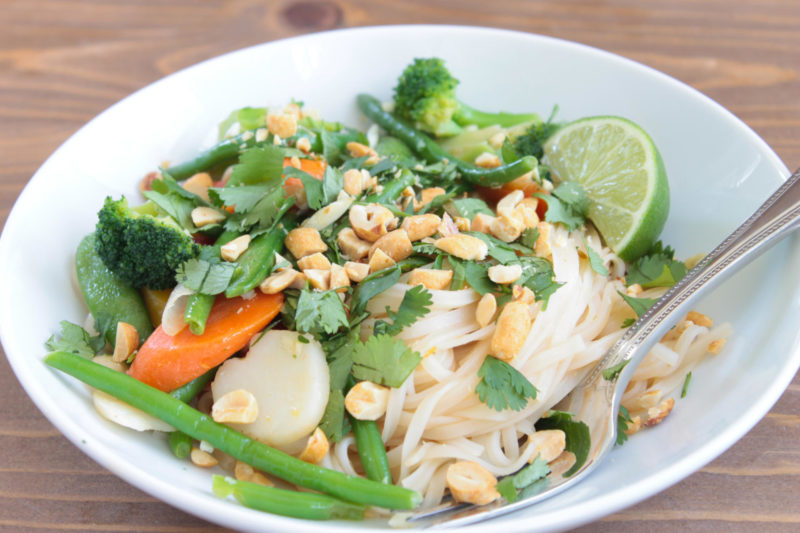 This pad thai recipe has been a house favorite for a while now, and I'm finally getting around to sharing it with you. It's an easy weeknight meal that comes together quickly and is sure to satisfy that noodle craving. Because sometimes you just need some sweet and tangy noodles, amiright?
Whatever you do, don't leave out the garnishes. Lime, cilantro, and peanuts make this dish. If you're not a fan of cilantro, some sliced scallions would be a tasty swap.
This dish is excellent as-is, but feel free to add a protein source. I suggest sautéing sliced chicken with the garlic and vegetables or adding crispy tofu on top of each portion.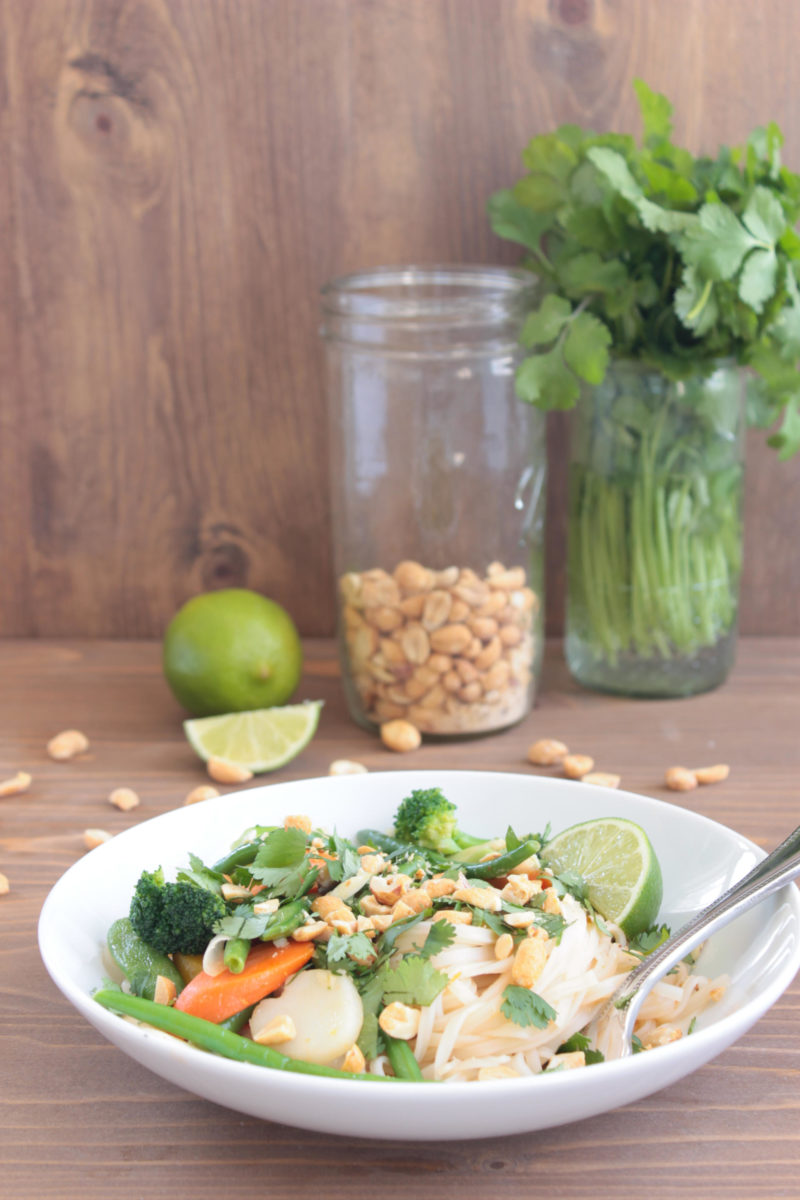 Vegetable Pad Thai
2017-03-01 15:29:52
Serves 8
This is a great basic recipe, and I encourage you to add a protein of your choosing to amp it up: stir-fried chicken or crispy tofu make great additions!
Ingredients
3 tablespoons freshly squeezed lime juice
½ cup brown sugar
1/3 cup fish sauce
1 ½ tablespoons chili sauce
16-ounce package rice noodles
2 tablespoons high-heat oil (avocado, coconut, canola)
4 large garlic cloves, minced
4 cups mixed stir-fry vegetables (I use frozen)
1 cup bean sprouts
¼-½ cup vegetable broth, as needed
1 cup chopped peanuts
1 cup cilantro, roughly chopped
Lime wedges, for serving
Instructions
Combine the lime juice, brown sugar, fish sauce, and chili sauce in a bowl and whisk to combine. Give it a taste: it should be a good balance of sweet and sour. If it's too sweet, add more lime juice. If it's too sour, add more brown sugar. Set aside.
Bring a large pot of water to a boil and drop in the rice noodles. Cook only 2-4 minutes until very al dente – the noodles should still have some crunch to them, and they'll finish cooking in the stir-fry sauce later. Drain and rinse with cold water, then set aside for now.
In a large wok, heat the oil then add the garlic and vegetables. Sauté until the vegetables are warmed through. Add the cooked noodles and the bean sprouts and pour the stir-fry sauce over everything. Use tongs to toss as the noodles and veggies as they bathe in the sauce for about 5 minutes. If it gets dry, add some vegetable broth. At this point the noodles should be al dente. Top each serving with 2 Tbsp chopped peanuts, cilantro, and a final squeeze of lime juice.
Notes
SR Clients: 1/8 of recipe = Level 2-3 (75-100%) entree
Strong Roots Nutrition http://www.strongrootsnutrition.com/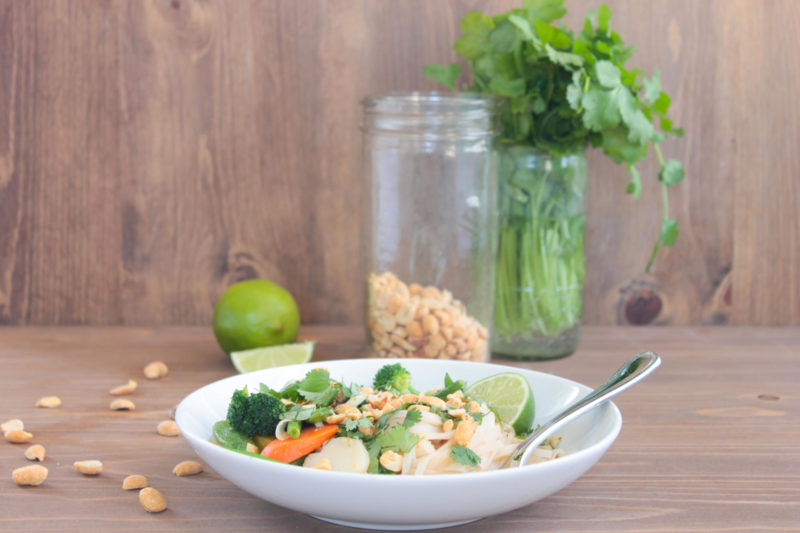 If you make this recipe or any other SR recipes at home, I want to check out your creations! Share with me on Instagram using #strongrootsnutrition to show off your cooking skills!
//Taylor