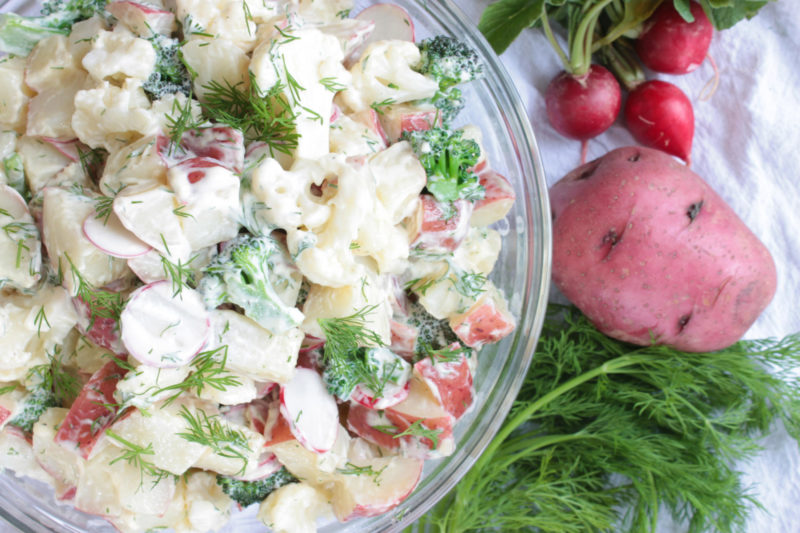 If you're tired of those old potluck recipes, this recipe is for you. It's not your mother's potato salad, but it's flavorful, tangy, and super delicious.
Is anyone else a HUGE fan of sea salt and vinegar flavored potato chips? That tangy-salty bite gets me every time, and so does this potato salad. It's basically sea salt and vinegar potatoes beefed up with cruciferous vegetables and dill. Yum, right?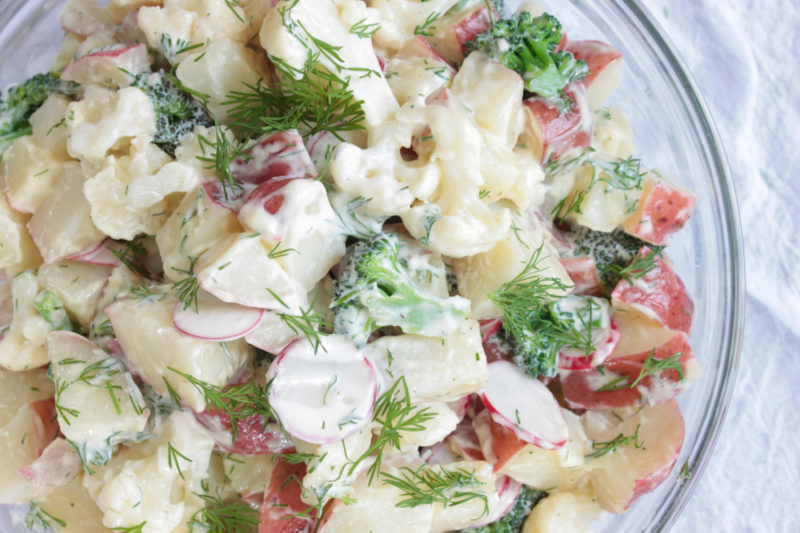 Tangy Red Potato Salad
2017-03-01 15:11:53
Serves 16
Makes ~10 cups (16 appetizer servings)
Ingredients
6 large red potatoes, diced (about 10 cups)
2 cups distilled white vinegar
1 ½ teaspoons salt, divided
3 cups broccoli florets
3 cups cauliflower florets
1 cup mayo
¼ cup chopped fresh dill
1 tablespoon Dijon mustard
¼ teaspoon black pepper
3 radishes, thinly sliced
Instructions
Place the diced potatoes in a large stockpot. Add the vinegar and 1 teaspoon salt, then add water to cover the potatoes with liquid. Bring the pot to a boil, then reduce the heat to simmer until tender, about 20 minutes. Drain and set aside.
Bring a separate pot of water to a boil. Blanch the broccoli and cauliflower for ~30 seconds, just to take off the raw edge. Transfer the boiled veggies to a bowl of ice water to stop the cooking. Allow them to cool, then drain.
In a large bowl, whisk together the mayo, dill, mustard, black pepper, and ½ teaspoon salt. Add the drained potatoes, broccoli, cauliflower, and sliced radishes, and toss to combine. Adjust salt and pepper to taste.
Notes
SR Clients: 2/3 cup = Level 3 (100%) appetizer
Adapted from She Likes Food
Strong Roots Nutrition http://www.strongrootsnutrition.com/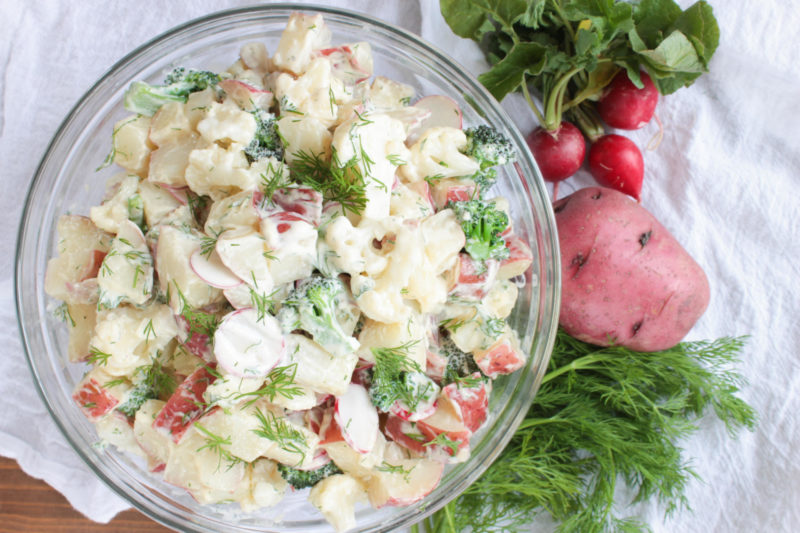 If you try making this recipe at home, be sure to share on Instagram using #strongrootsnutrition so I can check it out!
//Taylor