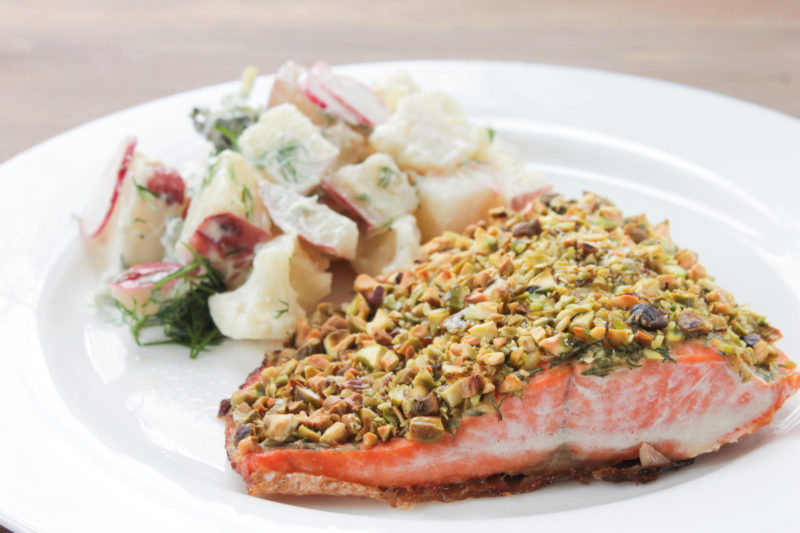 This recipe – and variations of it – has been a staple in my house for some time. It takes very little effort to throw together, cooks quickly, and tastes like a pricey restaurant entree. If you don't have pistachios at home (we usually don't because they get eaten in 7 seconds), you can use chopped walnuts or panko breadcrumbs for a tasty alternative.
The omega-3 fatty acids in salmon and other fatty fish like herring, mackerel, anchovies, and sardines serve up quite a few health benefits, which is why organizations like the American Heart Association recommend that everyone consume fatty fish twice per week. Omega-3s protect the heart and promote healthy cholesterol and triglyceride levels, improve blood pressure, and protect blood vessel function. It is thought that eating 2 grams of omega-3s per week (1-2 servings of fatty fish) reduces risk of heart disease death by a third! These fatty acids also help support brain development of babies in utero and after birth through breastfeeding.
So… salmon for dinner?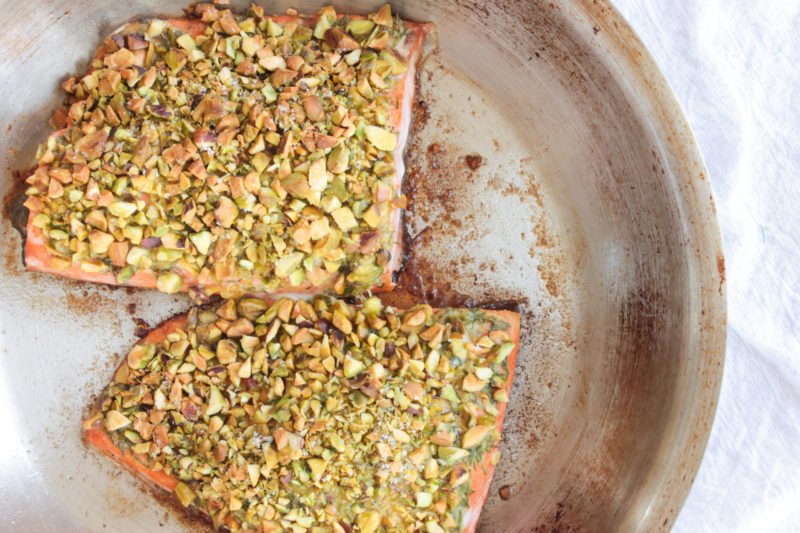 Pistachio-Crusted Nordic Salmon
2017-02-20 06:29:23
Serves 2
Ingredients
2 wild-caught salmon filets
1 Tablespoon Dijon mustard
2 Tablespoon chopped fresh dill
1 teaspoon olive oil
1 clove garlic, minced
½ teaspoon salt
¼ cup finely chopped pistachios
2 tsp butter
Instructions
Preheat oven to 425F.
Place the salmon filets on a plate or board with the skin side down.
In a small bowl, mix together mustard, dill, olive oil, garlic, and salt. Divide and spread the mixture evenly over the tops of the salmon filets. Cover the mustard mixture with the chopped pistachios, pressing gently so the nuts adhere. Sprinkle a big pinch of salt over the top of both filets.
Heat butter in a large stainless steel pan over medium-high heat. When the butter is hot, place the salmon in the pan skin side down (mustard and pistachios up). Sear for 2 minutes, then transfer to the hot oven. Bake 10-12 minutes.
Notes
SR Clients: 1 filet = Level 2-3 (75-100%) entrée
Strong Roots Nutrition http://www.strongrootsnutrition.com/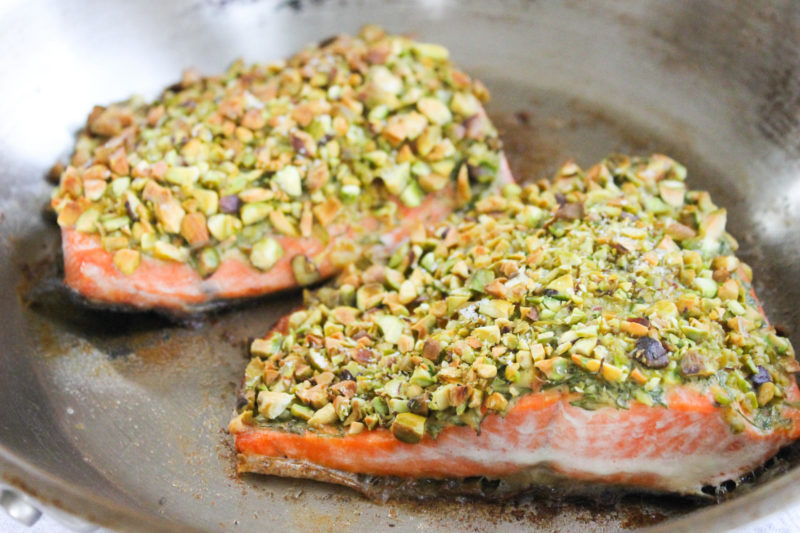 If you make this recipe at home, be sure to share on Instagram using #strongrootsnutrition so I can check it out!
//Taylor