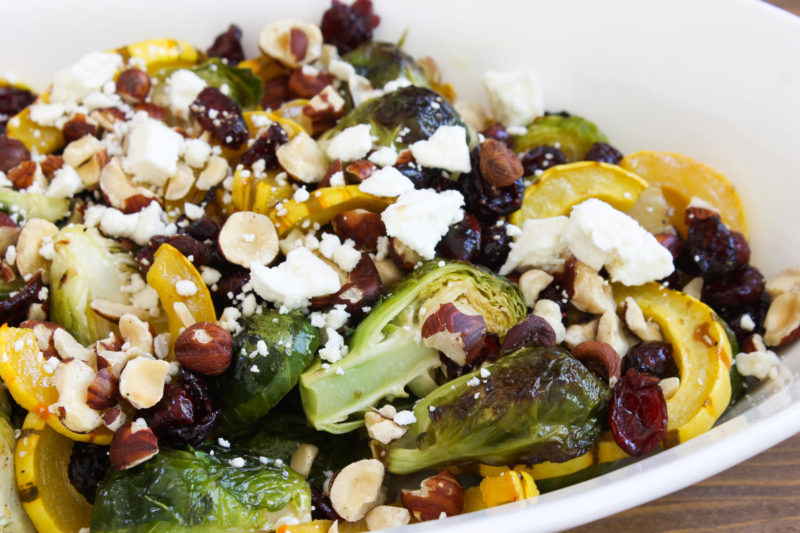 Roasting is a great way to take vegetables from meh to amazing. In roasting, the sugars in the food caramelize and interact with one another to create a brown crust, which is loaded with extra flavor. This brown flavor is usually characterized as nutty, sweet, and toasty – doesn't that sound wonderful this time of year? This roasted squash salad combines tender delicata squash and brussels sprouts with salty feta and sweet, balsamic-soaked cranberries to create a wonderful fall-inspired side dish.
Most squash varieties like butternut and acorn have a thick skin that's not very tasty and is usually removed prior to eating. Delicata squash, on the other hand, has a very thin skin that's totally edible and delicious.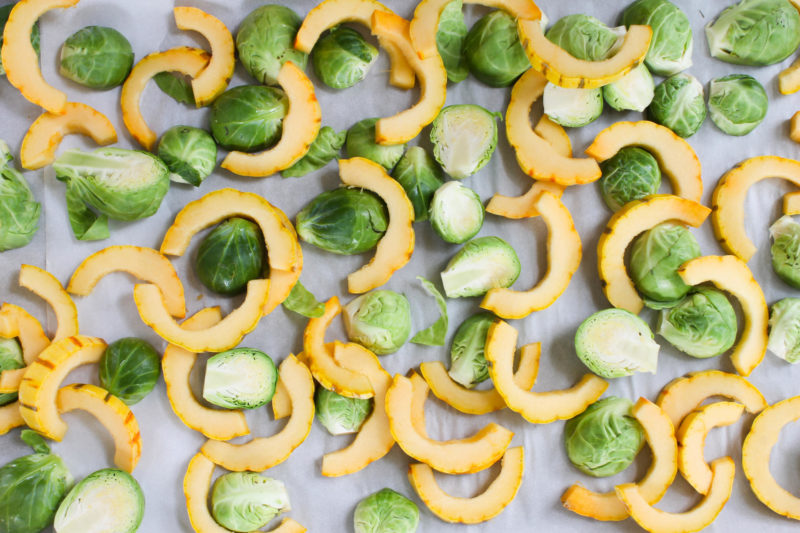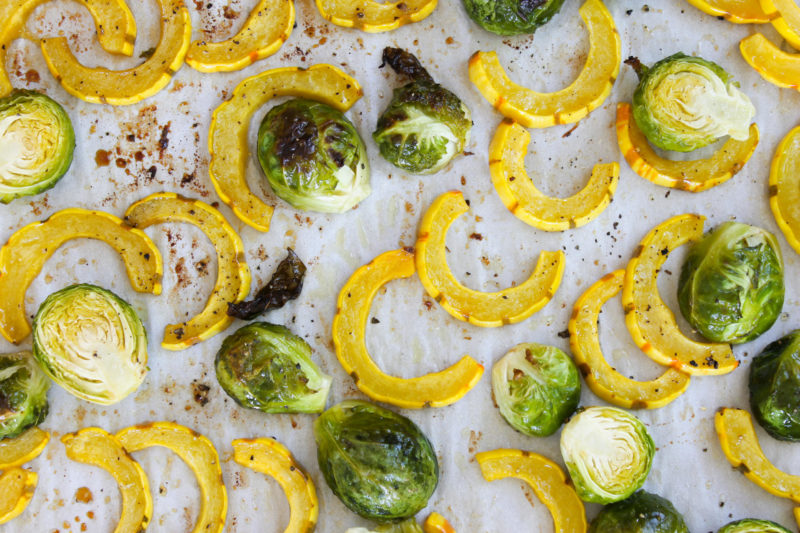 Delicata Squash Salad
2016-10-16 08:02:02
Serves 8
Ingredients
1 medium delicata squash, halved lengthwise and sliced
20 brussels sprouts, halved
3 tablespoons olive oil
1 tablespoon maple syrup
Salt and pepper
¼ cup dried cranberries
1 tablespoon balsamic vinegar
¼ cup chopped hazelnuts
3 tablespoons crumbled feta
Instructions
Preheat oven to 400F.
Arrange the sliced squash and Brussels sprouts on a sheet pan. Drizzle the olive oil and maple syrup over the veggies and toss to combine. Season with salt and pepper and roast for 15-25 minutes until the squash starts to caramelize around the edges and the outer sprout leaves get crispy. Broil for the last 3-5 minutes to crisp, if needed.
While the veggies roast, combine the cranberries and balsamic vinegar in a small bowl, tossing occasionally to help the cranberries soak up the vinegar.
Toast the chopped hazelnuts in a dry pan over medium heat, stirring occasionally until the skins start to flake off and the nuts are warm to the touch. This should take just a few minutes.
When the veggies finish roasting, cool for a few minutes, then transfer to a serving bowl. Top with the balsamic-infused cranberries, toasted hazelnuts, and feta and serve.
Notes
SR Clients: 1/8 of recipe = Level 3 (100%) appetizer. Combine with 4 oz. protein source for a complete entrée.
Strong Roots Nutrition http://www.strongrootsnutrition.com/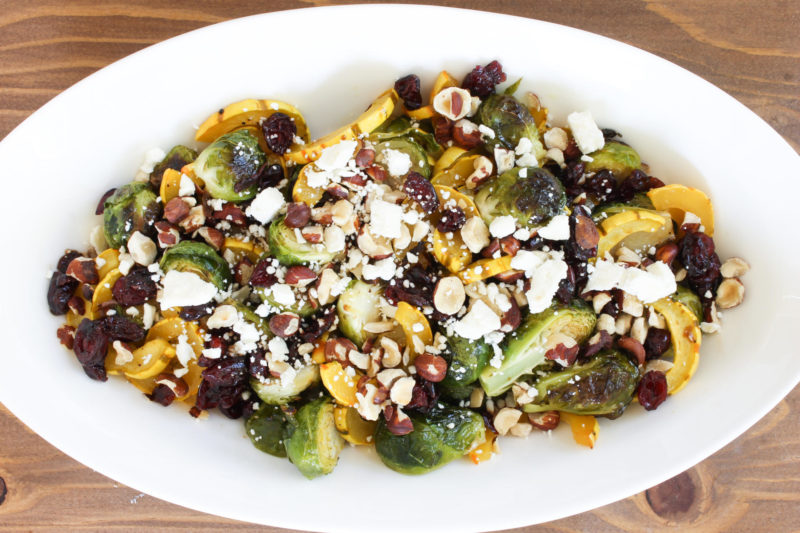 What's your favorite autumn vegetable? I'd love to use your ideas to inspire some new recipes. As always, if you make this recipe or any others, don't forget to share on Instagram and use #strongrootsnutrition so I can check it out!
//Taylor