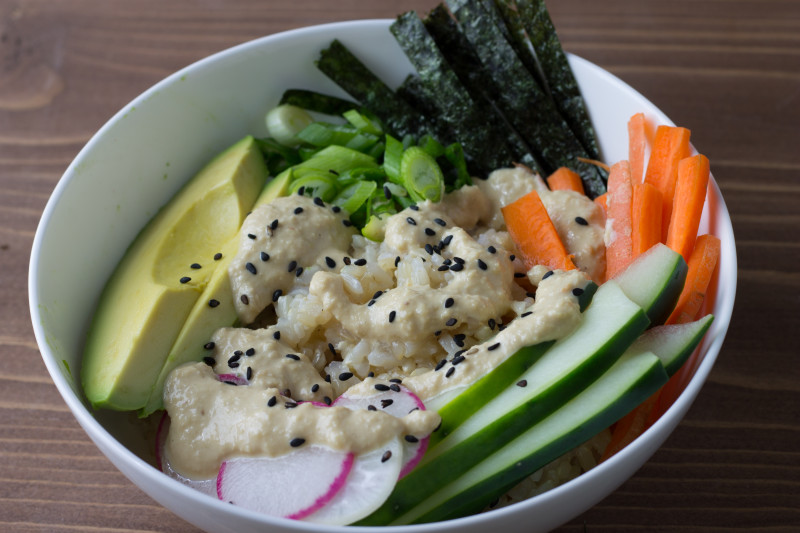 If you love sushi, you'll adore this deconstructed sushi bowl. Pile together seasoned rice, shredded nori paper, avocado, and whatever vegetables you fancy, then top with the creamy, spicy sauce for all the glorious sushi flavors and half the work. Seasoning the brown rice in the way you'd season sushi rice – with rice vinegar, salt, and sugar – is the secret to making this bowl delicious and irresistible.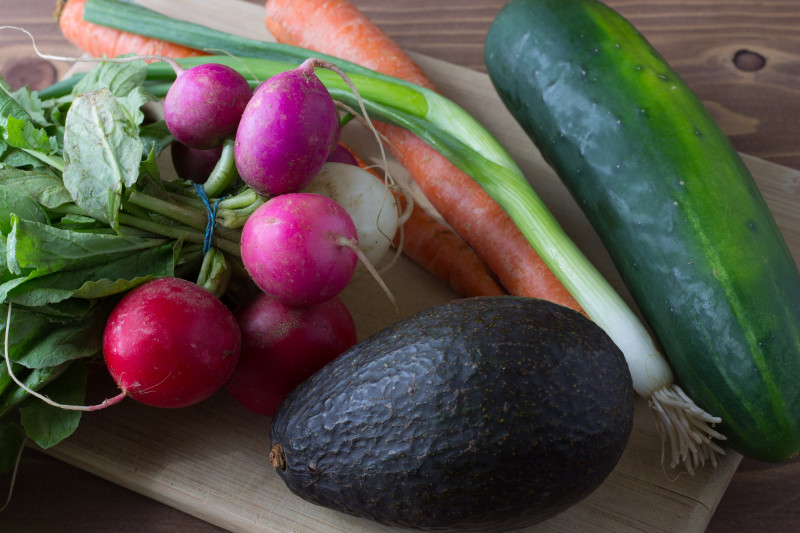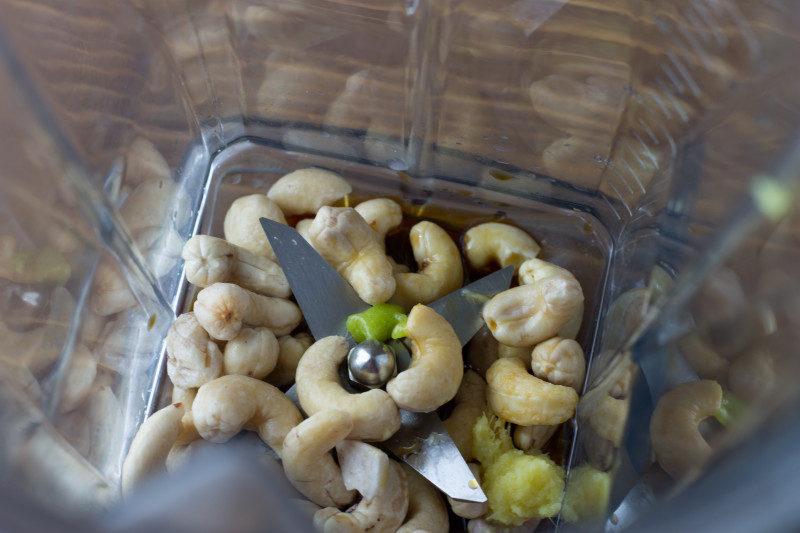 Cashew sauces have hit big this year, and the concept is brilliant. Instead of building a sauce in traditional, sometimes complicated ways (for example, blending a fat and flour on the stovetop, then adding a liquid to create a thickened sauce, or endlessly whisking egg yolks and vegetable oil to create a mayo or aioli) cashew sauces are easy: simply toss some soaked cashews in a blender with whatever you fancy, whirl together for a minute, and your sauce is done.
This one
is super tasty with tacos or burrito bowls, and
this one
is a blank slate that can be tweaked to whatever suits your meal.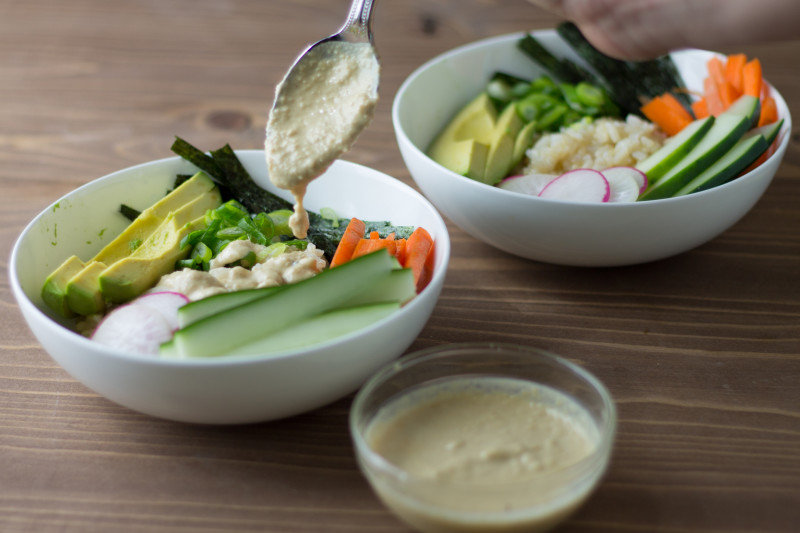 Sesame seeds are always a good idea.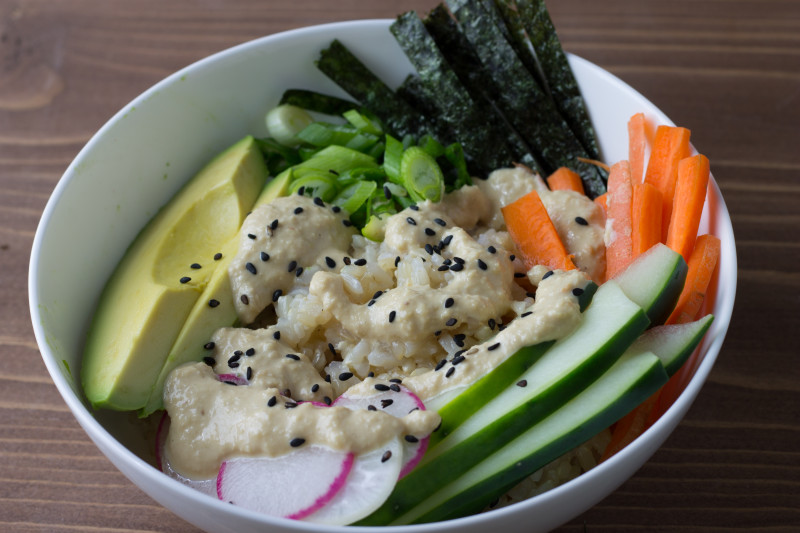 Deconstructed Sushi Bowl with Wasabi-Cashew Sauce
2016-09-16 07:15:27
Serves 2
For the sushi bowl
1/2 cup long-grain brown rice
1/4 cup sweet brown rice
1 1/4 cups water
4-inch piece of kombu (optional)
1 tablespoon rice vinegar
1 teaspoon sugar
1/2 teaspoon salt
1 medium carrot, sliced into sticks
1/2 of a medium cucumber, sliced into sticks
1 radish, sliced thin
1/2 of a large avocado, sliced
1/2 sheet of nori, sliced into sticks
Wasabi cashew sauce (recipe below)
Sesame seeds, for garnish
For the wasabi-cashew sauce
1/3 cup cashews, soaked 2 hours
1 1/2 teaspoons soy sauce
1 tablespoon avocado oil (other vegetable oil works too)
1 teaspoon sesame oil
1 teaspoon fresh grated ginger
1/4 teaspoon prepared wasabi
2-3 tablespoons water (to thin)
For the sushi bowl
Rinse the rice under cold water. Combine the rinsed rice, water, and kombu in a large saucepan and bring to a boil. Reduce heat to low, cover, and simmer 35-40 minutes until the rice has absorbed all of the water. Remove from heat and allow the rice to steam with the lid on for 10 minutes. Discard the kombu.
Combine the rice vinegar, sugar, and salt in a small saucepan and heat until the salt and sugar are dissolved. You could also do this in the microwave.
Transfer the cooked rice to a clean bowl and pour the vinegar mixture over it. Use a wooden spoon to work the vinegar into the cooked rice. Cover the rice with a damp towel until ready to use.
Divide the rice between two bowls and pile on the sliced carrot, cucumber, radish, and nori (or whatever vegetables you decide to use). Top with the wasabi cashew sauce and sprinkle with sesame seeds.
For the wasabi-cashew sauce
Combine all ingredients except the water in a high-speed blender. Turn the blender on high and slowly drizzle in the water until the sauce reaches the desired consistency. The sauce could be kept refrigerated for 2-3 days.
Notes
Note: This recipe calls for a combination of long-grain brown rice and sweet brown rice. The sweet brown rice is softer and helps create a stickier final product, but you could certainly use 3/4 cup of regular long-grain brown rice if you don't have sweet brown rice on hand.
SR Clients: Use 1/3 of total recipe for a Level 2-3 entree portion. Use 1/2 of the total recipe for a complete Level 2 meal. Use 1/2 of the total recipe + standard appetizer or dessert for a Level 3 meal.
Adapted from The Simple Veganista
Strong Roots Nutrition http://www.strongrootsnutrition.com/