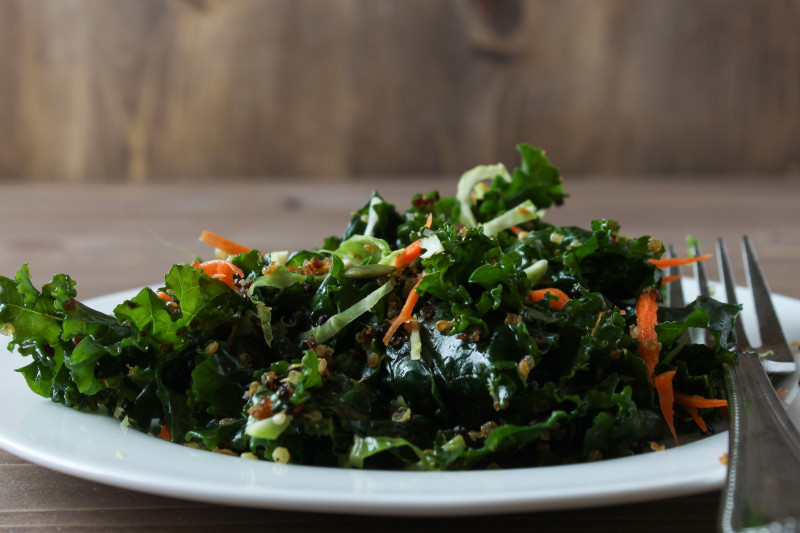 Even for those who love a bowl of greens, sometimes it's just not appealing to eat salads in the winter. Generally speaking, when it's chilly outside, we want a warming, hearty meal – not cold, light lettuce. This salad, however, is different. Using dense kale instead of crunchy romaine and topping with warm fried quinoa and shaved winter vegetables, this salad is perfectly winter-worthy and satisfying. Top with garlicky shredded chicken or glazed salmon, and you've got yourself a nutritious and hearty winter meal.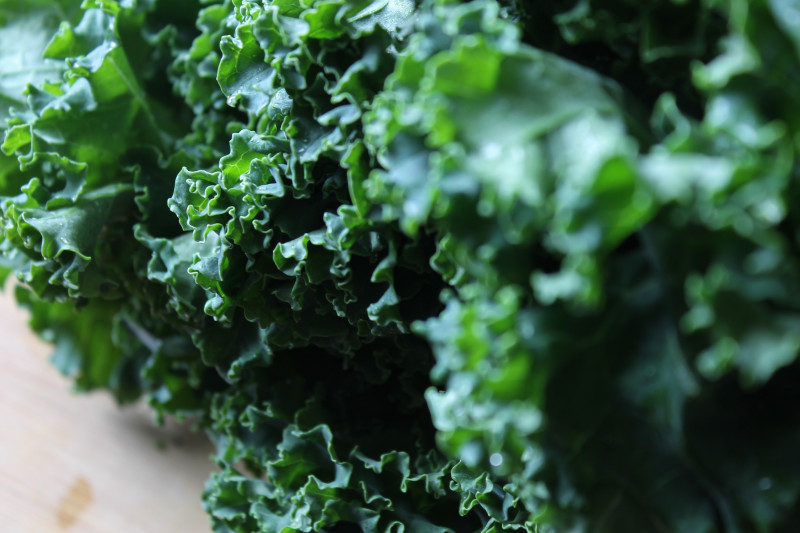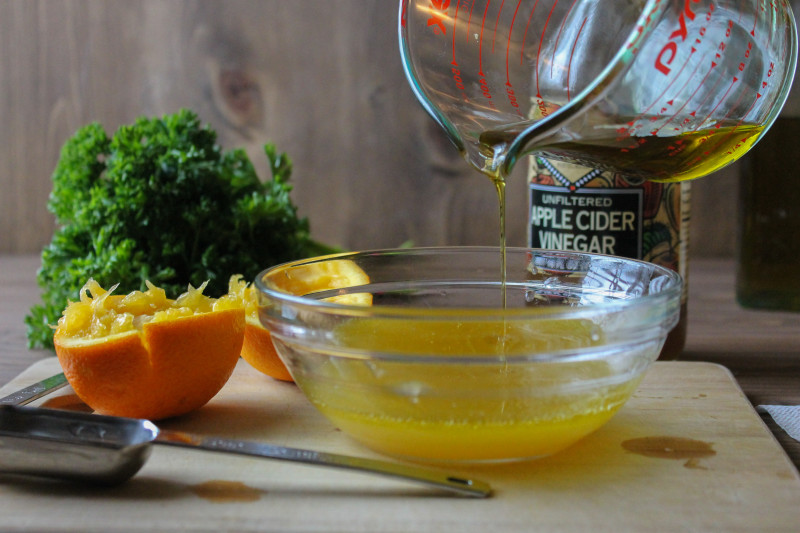 Few vegetables have taken the market by storm the way that kale has in the past couple of years. Kale, a member of the Brassica family of vegetables along with cabbage, cauliflower, and broccoli, is packed full of nutrients. One cup of chopped fresh kale provides 206% of your daily vitamin A, 134% of your vitamin C, 684% of your vitamin K (talk to your doctor or RD about kale if you take blood thinners), and 26% of your daily manganese. We know the Brassica family is fantastic at reducing internal inflammation, which is linked to many chronic diseases like heart disease, cancer, and diabetes. Glucosinolates, compounds responsible for the pungent flavor of these vegetables, are thought to be responsible for this reduction in inflammation.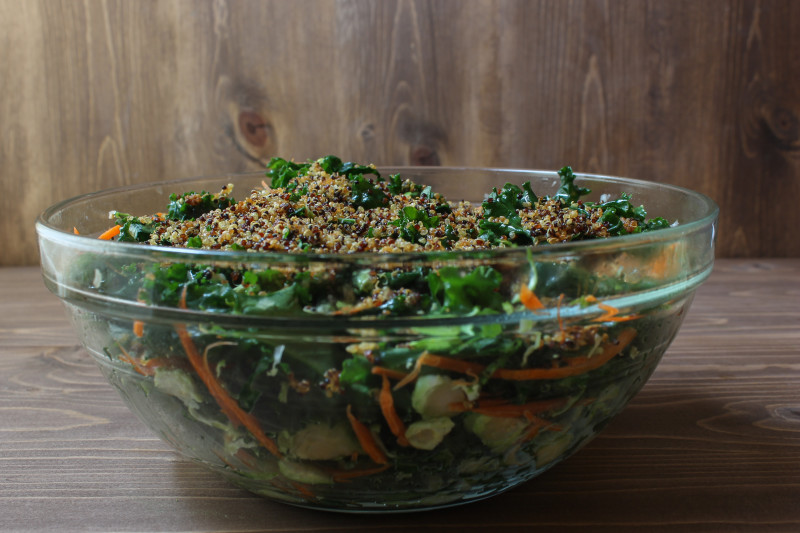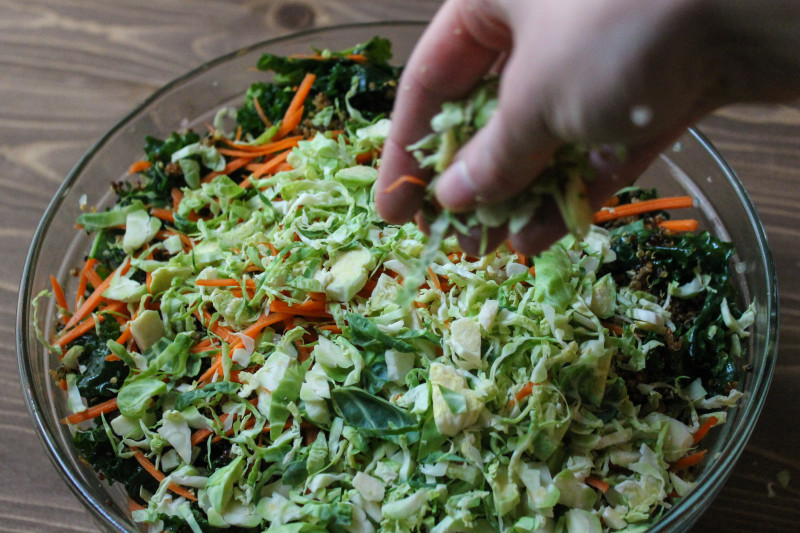 There's so much goodness in there.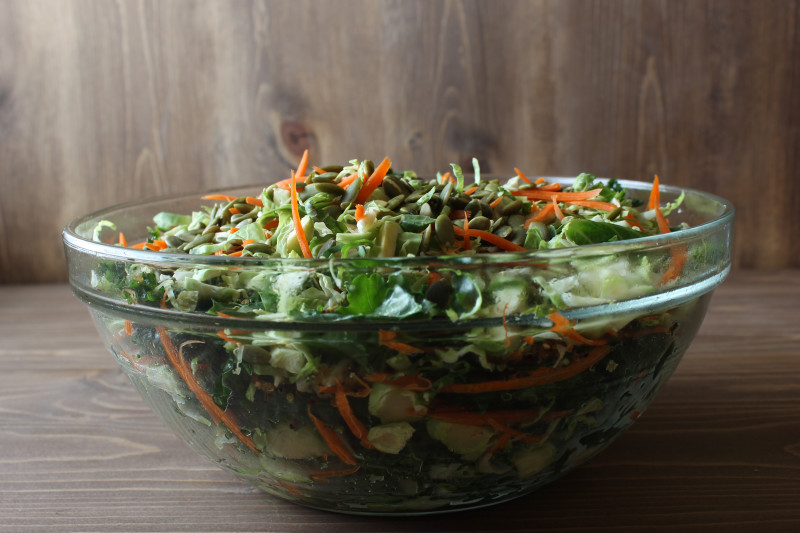 Winter kale salad with crispy quinoa
2016-09-16 07:51:34
Serves 5
Ingredients
Juice from 1 orange
1/2 teaspoon orange zest
1 shallot, minced
1 teaspoon honey
2 tablespoons apple cider vinegar
1/2 teaspoon salt
1/4 cup olive oil
2 tablespoons avocado oil (or other high-heat oil), divided
1 1/2 cups cooked quinoa, divided
12-14 cups (about large 1 bunch) curly kale, de-stemmed
20 Brussels sprouts, sliced thin with a knife or mandolin
2 medium carrots, shredded
1/2 cup pepitas
Instructions
To make the vinaigrette, whisk together the orange juice, orange zest, shallot, honey, apple cider vinegar, and salt. Whisk constantly as you slowly drizzle in the olive oil to create an emulsion. Taste for seasoning, then set aside.
Heat 1 tablespoon of avocado oil in a large pan over medium-high heat. Add half of the quinoa and fry for 2-3 minutes until light golden brown. Transfer to a plate lined with a paper towel to absorb the excess oil. Repeat with the rest of the oil and quinoa. Cool completely.
Wash the kale thoroughly (its leaves can hold a lot of dirt) and spin dry in a salad spinner. Tear into bite-sized pieces and add to a large bowl. Pour the dressing over the kale leaves and use your hands to massage the kale for 1-2 minutes until you feel the leaves begin to soften.
Add the fried quinoa (if serving immediately - see head note), shaved Brussels sprouts, shredded carrot, and pepitas to the softened kale and toss to combine. This salad is best if served immediately, but you can keep it covered in the fridge for up to 5 days.
Notes
Tip: I enjoy making this salad as part of my batch cooking on Sunday afternoons to enjoy over the course of the week. If you don't plan to serve and eat this immediately, I recommend reserving the quinoa in a paper towel-lined paper bag and adding just before serving to preserve the crunch.
SR Clients: 1 serving (1/5 of recipe) = Level 2-3 entrée; use 1/10 of recipe for Level 3 appetizer.
Strong Roots Nutrition http://www.strongrootsnutrition.com/