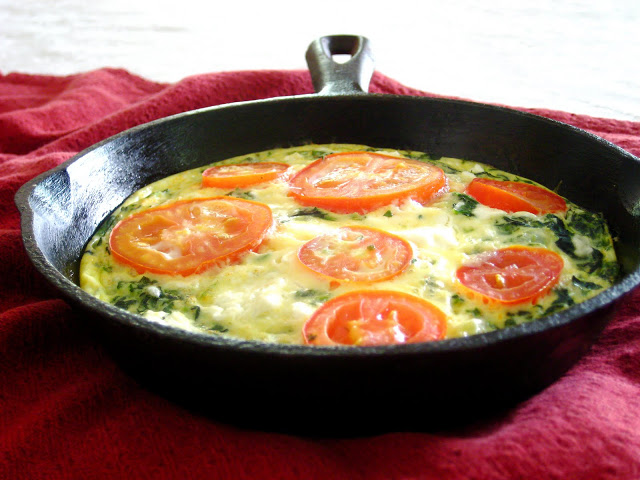 Cooking can feel like work, and there are many times when life gets in the way and it doesn't sound like something fun to do. If ever you need inspiration, go to a good grocery store with an excellent produce selection, and pick up something you've never tried (or seen!) before. Research it, and get excited trying to find a way to incorporate it into a dish or two.
I picked up a leek the other day, which I'd never had before, and found that they are really delicious! They are similar to an onion in their flavor and use, but they have a different, milder flavor that's super enjoyable. I've been searching for recipes to use them in, and I stumbled across this one on my favorite food blog, Sprouted Kitchen.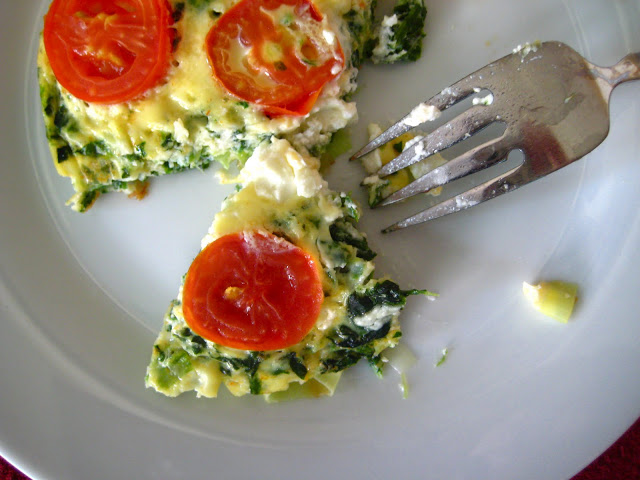 Leek and Spinach Frittata
Adapted from Sprouted Kitchen
Serves 1
SR clients: 1 recipe = 1 level 2 snack, 2/3 of a level 2 breakfast, or a level 1 lunch/dinner
1 whole egg
1 egg white
1 Tbsp milk
Dash of hot sauce (I used Frank's Red Hot)
1/2 Tbsp butter
1/4 of a leek
1/4 cup cooked, chopped spinach
1 ounce crumbled goat cheese
1 Roma tomato, sliced
Preheat the oven to 500. Chop the leek into 1/4 inch slices and separate the inner layers. Heat some butter in a nonstick pan and gently cook the leeks until they soften.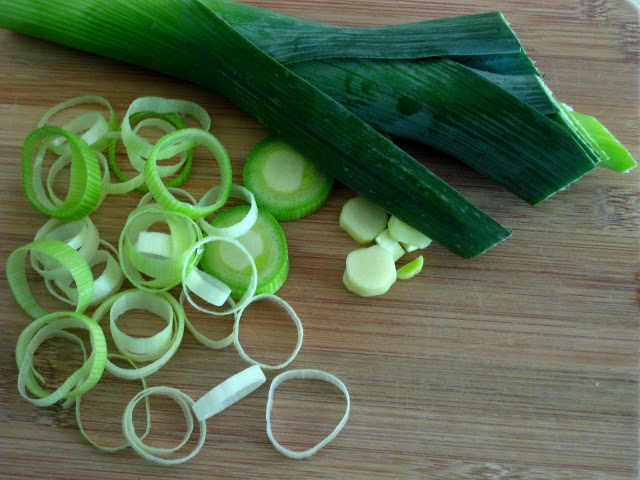 Meanwhile, whisk the egg, egg white, hot sauce, and milk in a bowl. Incorporate some air into the mixture, whisking for about 3 minutes.
Get your spinach ready: I used frozen, chopped spinach, and this is the most low-maintenance method. Just thaw out 1/4 cup and squeeze out the water. If you want to steam your own, more power to you. Just make sure it's chopped and squeezed as dry as you can get it.
Transfer the leeks into the dish you want to bake your frittata in. I used a 6 1/2 inch cast iron skillet. Place the dish on your stove, the burner on low heat. Add the egg mixture on top of the leeks, then distribute the spinach evenly over the top. Add the goat cheese, again, sprinkling evenly throughout.
Allow this to heat for a couple of minutes on the stove until the edges just begin to cook. Add the Roma tomato slices and transfer to the oven. Cook for about 6-8 minutes until the eggs have set. Dig in! This is an incredibly easy and delicious breakfast. The creamy goat cheese adds a little tang, and it tastes great with the eggs.