Spinach-Ricotta Galettes and Tartelettes
Makes about 10 2″ tartelettes or 6 4″ galettes
For pastry crust:
1/2 cup all-purpose flour
4 Tbsp cold butter (I used salted here)
~1 Tbsp ice water
For filling:
1/2 medium shallot
1 clove garlic
3/4 cup frozen, chopped spinach, thawed and squeezed to damp
1/3 cup ricotta
1-2 Roma tomatoes, sliced into 1/4 inch slices
Basil (I prefer fresh, but my basil plant isn't with me at the moment, so I used dried)
Sea salt
Black pepper
Olive oil
To make the crust, chop the butter into 1/2 inch slices and combine in a food processor with the flour. You can do this by hand as well, but appliances make it easy. Pulse the food processor a few times until the mixture consists of small balls of flour and butter, almost cornmeal-y. If the mixture is too dry, add a LITTLE BIT of cold water, then pulse again. Don't over-do the water – you don't want soggy dough. The mixture should by quite dry (but not crumbly) and able to be formed into a ball. Dump the mixture out onto a cutting board and mash it all together with your hands and make sure the butter is well-distributed and it is smooth. Form the dough into a ball, flatten it a little, then wrap it in foil or plastic wrap and refrigerate for at least 1 hour.
Heat a tablespoon or two of olive oil in a pan. Mince the garlic and chop the shallot and put it in the pan, frying for only about a minute to soften the shallot. Don't burn your garlic! Remove the pan from the heat and dump in your spinach. Give it a good stir, letting it cook just a bit, then set aside.
When your crust is cold, take it out of its covering and cut off a small chunk. Spread a little flour on a cutting board and roll out the dough with a rolling pin. It should end up very thin!
For tartelettes, cut a 6″ diameter piece (it doesn't have to be a circle or any specific shape for that matter) and place it in a small, round baking dish of some kind, like a ramekin or even a cupcake pan, and form it to the edges. [You may choose to par-bake the crust for a few minutes before adding the filling to ensure that the bottom gets crispy.] Place about 1 – 1 1/2 tablespoons of your spinach mixture in the bottom of the crust and flatten it just a bit. Grab about 2 teaspoons of ricotta and form it into a ball, then flatten it in your hands to make a small disk, then place this on top of the spinach. Place 1 tomato slice on top, drizzle or brush the tomato with a tiny bit of olive oil, and top with a little sea salt, black pepper, and basil.
For galettes, cut a 6″ diameter piece (once again, it doesn't have to be any certain shape) and stack the ingredients the same way in the middle of the dough, trying to keep them in a neat(ish) circle. Fold up the edges of the dough around the fillings to make a nice little free-standing tart.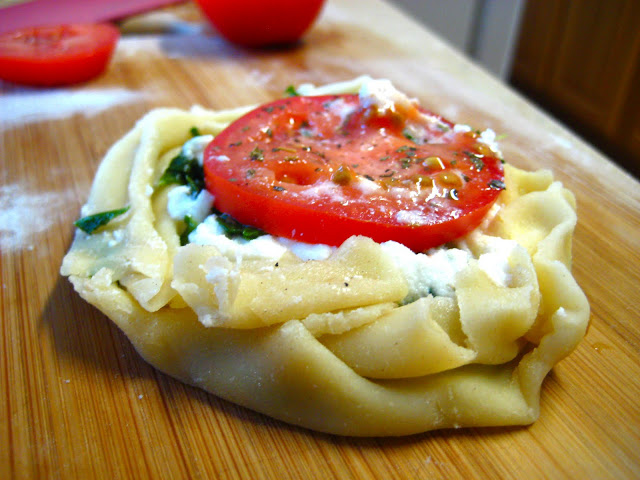 Put your galettes or tartelettes in a 350°F oven for about 10 minutes or until your pastry is nicely toasted and the filling is hot. I kept my galette in about 5 minutes longer and bumped up the heat to 400 to better brown the crust.
Update: I made these again the following day using some crust dough leftover from my original recipe, and the dough kept very nicely! I would guess it could be refrigerated for a week or so with no problems.