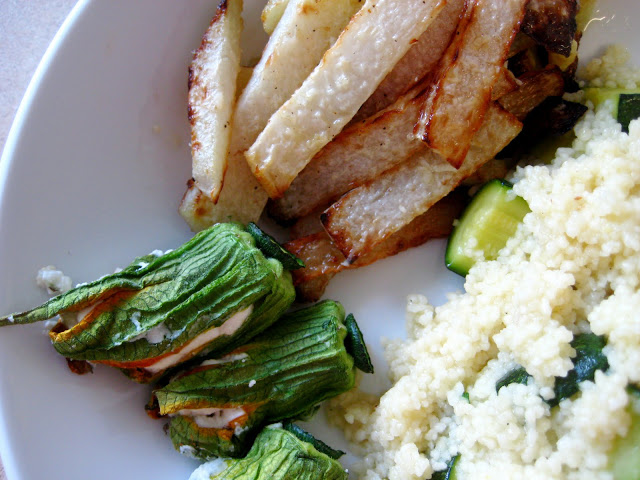 Earlier this summer during my stay in Italy, zucchini blossoms were everywhere. I had never seen them before, but they were delicious in risotto, so since I have been back in the States, I have kept an eye out for them. I looked at several supermarkets and Soulard Market with no success, but today at the Columbia Farmer's Market, I found some! They are much smaller than the ones I had in Italy, but that's okay. Between the zucchini blossoms and a local goat cheese, it wasn't hard to come up with a dinner plan.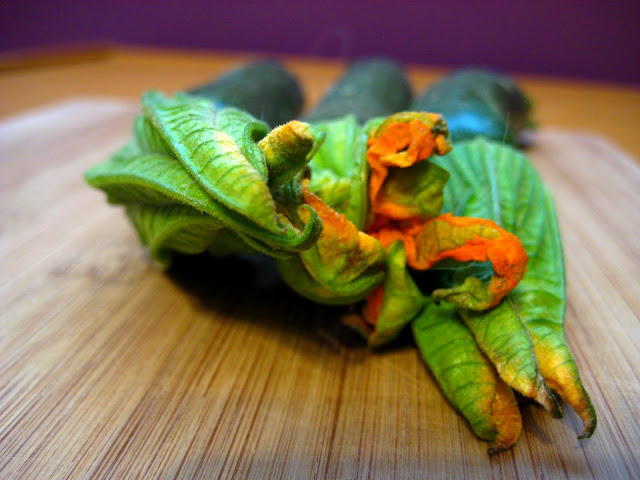 Goal cheese-stuffed zucchini blossoms
Serves 4
Ingredients:
12 small zucchini blossoms
4 ounces fresh goat cheese
3 small garlic cloves, minced
1/2 tsp basil
Preheat oven to 350. Wash the zucchini blossoms by rinsing under water. Be sure to check for bugs, just in case. Remove the stamen from the inside of each zucchini blossom by pushing a thumb inside and digging the nail in to break the stamen off. In a bowl, combine the goat cheese, minced garlic, and basil, and mix. Grab a ball of the cheese mixture and stuff it into the blossom, pushing it to the bottom. Bake on a very lightly greased pan until the petals wilt over the cheese and the cheese begins to melt. They are delicate, so it only takes about 7-10 minutes.
Kohlrabi is a member of the cabbage family and is also called a "German turnip." I had never cooked one before (I'm not sure if I had even eaten one before), but I'm a fan of trying new things, so I gave it a shot.
Roasted kohlrabi
Serves 4
Ingredients:
3 fresh kohlrabis (I used purple, but any kind is fine)
1/4 cup olive oil
Salt
Pepper
2 Tbsp. fresh parmesan, grated
Preheat oven to 450. Wash the kohlrabis and chop off the stalks if present. Peel the skin from each kohlrabi, removing all the woody membranes under the surface. When clean, it should look white. Slice them into strips (like french fries!). Combine the olive oil, salt, and pepper in a bowl and toss the kohlrabi strips in the mixture to coat.
Bake for about 15 minutes, flipping the slices halfway. They should appear slightly oven-fried and browned. When cooking is done, top with parmesan cheese and return to oven for 2-3 minutes until cheese is melted.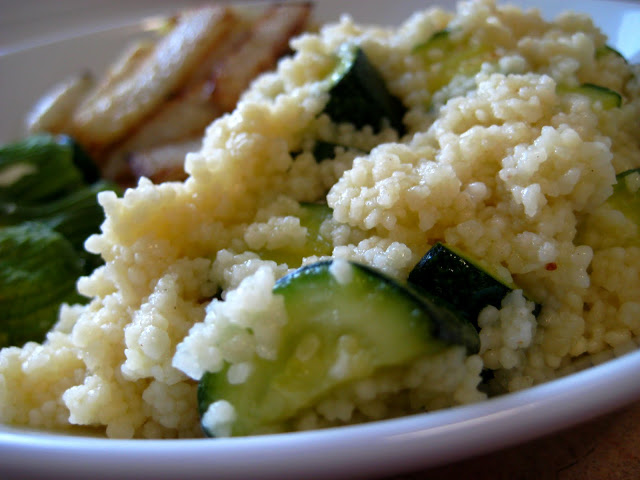 Zucchini couscous
Serves 4
1 cup quick-cooking couscous
1 large zucchini or 4-5 small zucchini
2 Tbsp. olive oil
1/4 cup white wine
1 3/4 cups water
Salt
Heat olive oil in a pan. Slice the zucchini lengthwise, then in 1/2 inch pieces. Toss the zucchini into the pan and cook on medium-high heat for about 5 minutes or until the zucchini begins to soften but is still quite firm. Add the couscous directly to the pan and pour in the wine. Stir until most of the wine is absorbed or evaporated, then add the water. Turn the stove down to medium-low and allow the couscous to absorb the water, which should take about 5 minutes. Remove from heat. If after 10 minutes or so the couscous is too wet or too dry, more dry couscous or more water can be added to adjust. Instant couscous is almost impossible to screw up! Salt to taste.